Overview
Binance is a newly-created brainchild founded by a team of experts in China but later transferred their headquarters to crypto-friendly Malta. The Maltese-based company dwarfs its rivals with the highest total daily visitor count, high liquidity and eye-popping trading volumes. The top exchange also attracts heavy web traffic, an emblematic factor of staggering trading volumes.
A study conducted recently by "The Block" highlighted that the crypto company made away with $446M in profits, in 2018 -- during a bear market.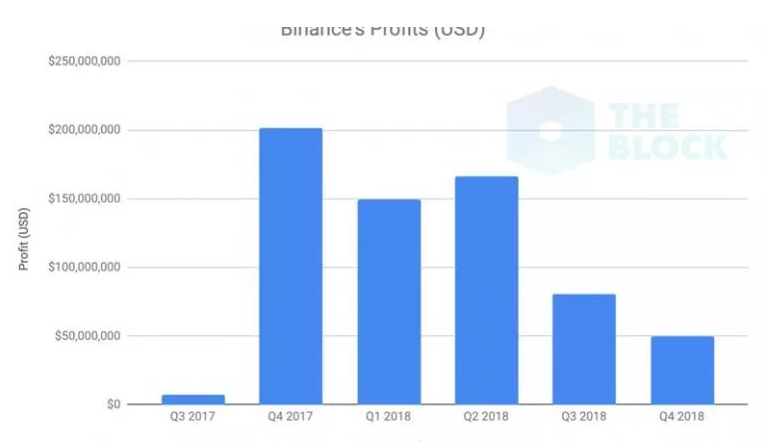 Website Interface: How friendly is it?
The Binance website offers multi-language support, welcomes the bandwagon of new users and facilitates transactions. The interface contains a detailed navigation bar, icon of news, charts, and an exhaustive table of currency pairs.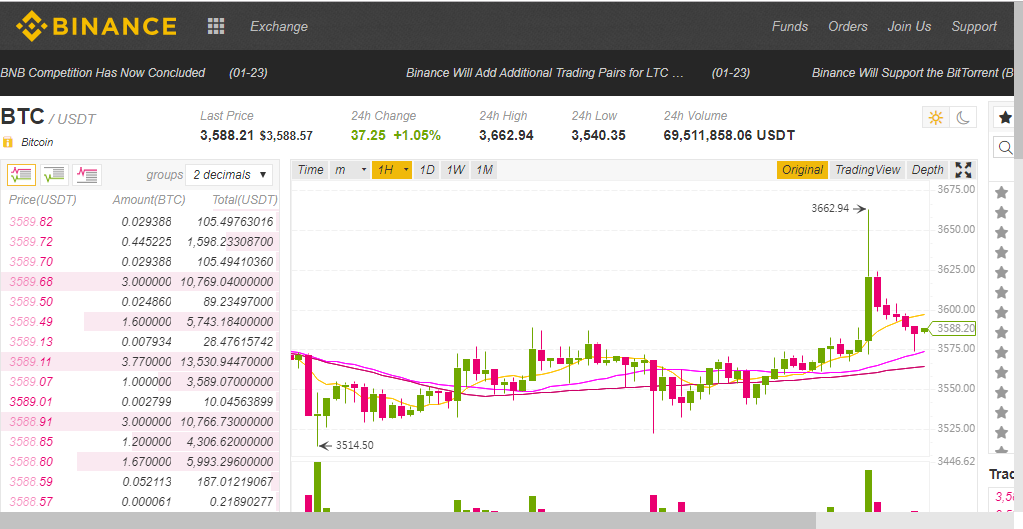 The website application displays up-to-the-minute market listing data with 24-hour fluctuations and last pricing for currency pairs. At the outset, Binance provided a safe haven for sophisticated traders, but later it enticed a deluge of novel traders thirsty for its broad array of altcoins. It offers a basic and advanced interface version. The nuanced and subtle data will rack your brains as a novice because the sections lack illustrative labels.
Customer Reputation
Despite Binance attaining a significant toehold in the crypto market, attracting a million unique visitors every month, it is not always a smooth sail. While some people found a spot a Binance, we cannot say for sure it is the case for everyone.
Like most Exchanges, it is notorious for locking customers' accounts if they notice suspicious activity with your account.  With this in mind, Binance has been accused of scamming people to pay off their debts. Some customers have turned to platforms to voice their complaints. Like this user who says Binance locked his account with a whopping 1,200 Bitcoins – approximately $7.8 million – and the reasons for doing it are unclear as the affected user says he has not been involved with any fraudulent activities. On the contrary, we cannot tell for sure whether it is Binance in the wrong or the user was a victim of phishing.

Some people complain of getting locked out of their accounts.  Users are unable to bypass the 2FA security; reaching out to support seems unhelpful because Binance may take some time to get back to you.
There are a significant number of users who say they lost their funds as they were unable to access their accounts without having to reset 2FA. They will insist you provide info that you would probably know at your fingertips if signed into your account.  They ask about:
Not everyone can keep or remember some of these details.  Unfortunately, Binance does not care; that means you get locked out of your account forever.
Question: what do they do with funds belonging to locked accounts?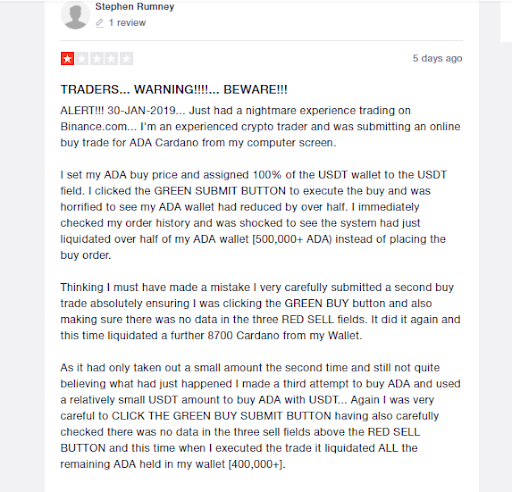 Binance Ecosystem Security
Binance developers have implemented measures to shield users from scams, digital thieves and curb money laundering. Binance data privacy and protection ensures users information is not compromised, lost, or corrupted. Key security standards that ward off errors or attacks include:
Using IP addresses or cookie data to shield against automated infiltration such as phishing, spam and Distributed Denial of Service (DDoS) attacks.

Using accumulated data to detect suspicious trading behavior to block potential fraud, quarantine funds and protect the entire ecosystem

Leverages IP addresses or unique identifies archived in your device's cookies to authenticate identity

Integrates PCI scanning, pseudonymisation, stringent physical access controls, and internal data availability restrictions.

Use of Secured Sockets Layered encryption technology.

POODLE attack protection throws hackers off the scent with impermeable browsing encryption.

Protects infrastructure from Heartbleed attack.

Man-in-the-middle (MITM) attack protection forestalls supervening digital terrorism.

Privacy Policy and Consent Form incorporates the General Data Privacy Regulation (GDPR) policy framework.

Use of SMS two-factor verification and Google Authenticator.
A while back, Binance intercepted funds stolen from Cryptopia.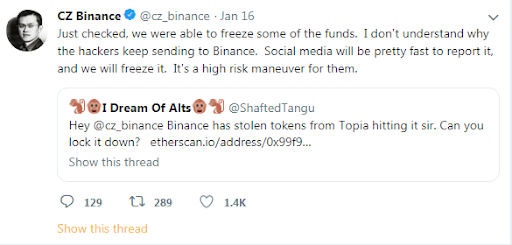 P.S: Be vigilant as there are many Binance phishing websites out there.
Privacy concern
For AML/KYC reasons, Binance asks for personal details for different account levels. Users who have Personal & Enterprise-level accounts are required to verify certain identity information. Binance does not disclose who they contact or share the info you provide for KYC reasons.
Apart from asking for personal details, Binance also monitors and tracks information related to your account, including transaction data. They collect details like the date & time you login, IP address, browser type, the operating system you are using, and device information.
On top of the information you submit for identity verifications, Binance collects transaction details for user who holds a personal or an enterprise account. This will include details like: your account balances, order activity, trade history, distribution history, and withdrawals.
Details you submit for verification purposes include:
Government ID.

Phone number.

Contact information.

Your official names.
Deposit & Withdraw
For a longest period Binance has been in Business, it has been operating as pure cryptocurrency exchange.  You could only transfer virtual currencies like Ether and Bitcoin.
Now, some wonderful news for Binancians: debit cards and credit cards are now being accepted as payment method. Binance is accepting both Visa and Mastercards.
Trading Fees
Binance Fee Schedule stipulates 0.1% trading fee computed based on your traded volume over a one month period and BNB balance. If you own BNB tokens, the company deducts your fees from your BNB balance. In fact, the fee decreases by up 50% when you clear using BNB.
For example, a level 2 user "VIP 1" transferring more than 100 BT, and holds a minimum of 50 BNB, reaps a higher discount compared to a trader in tier one.  See the screenshot below.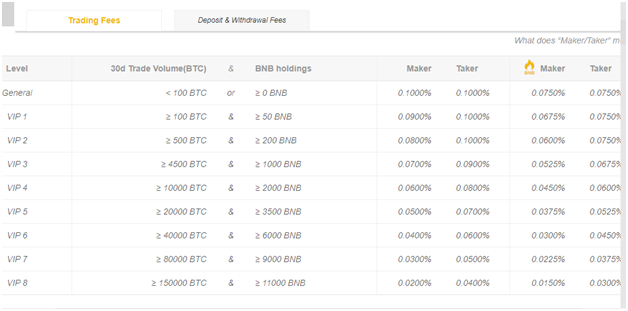 Essentially, your maker/taker fee, and your tier level will depend on the above mentioned factors.  
Deposit fees
Cryptocurrency deposits are free of charge.

Credit card and debit card carry a fee of 3.5% per transaction or pay $10 -- which is higher.
Withdrawal fees
Here is what the withdraw fee looks like for specific coins: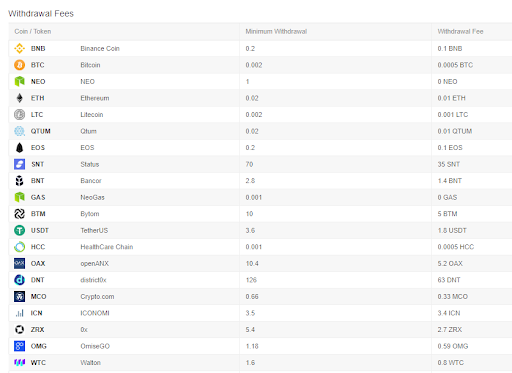 Coins Listed
Binance offers a wide selection of virtual currencies with a variety of trading pairs like BTC, Ethereum, USD Tether, Binance Coin, and many others. Among the top listed coins include:
Verification requirements
Binance has three account levels.
Level 1: In this tier you don't have to submit personal info. You just have to verify your email  to get a

daily limit of 2 BTC.

Level 2: When you activate Google Authenticator or two-factor authentication, you account rises to tier two. Also, tier two requires that you submit details like: basic info like your real names; your contact information; your government ID, driving license or passport; and, a selfie. Accounts in this tier can transfer up to

100 BTC per 24 hours

.

Level 3: If you need to transfer more than the amount allowed in tier two, you can contact Binance support to get level-3 verification.
Buy and sell limits
Binance  places limits for withdrawals only; there are no limits for deposits. Your withdrawal limit will depend on your account level.  The limits are as follows:
Trading Volume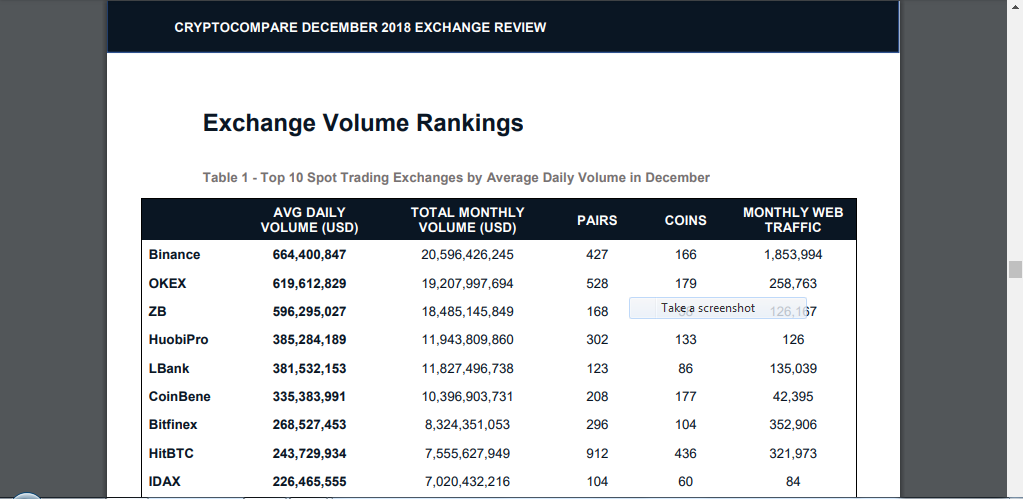 Monthly macro exchange report circulated by CryptoCompare showed Binance at the top of the league, gobbling the lion's share of the entire trading volume. The review published on December 5 2018; ranked Binance as the top exchange by total monthly volume. The company's total monthly trading volume plummeted by 13% on average since November.  As of 4th February, Binance had a trading volume of $736,293, 347 per 24 hours.
Countries Supported
With their eyes on blockchain upside potential, countries such as Bermuda, Malta, and Gibraltar have established a business-friendly policy framework. Government crackdown in Japan and China saw Binance headed to lenient Malta.
Does Binance have any restrictions?
Binance has not exclusively restricted any states or explicitly listed supported countries. Binance mission to become the unchained global exchange for cryptocurrencies with the largest customer base. The platform doesn't filter users IP addresses to shut down accounts from any geographical locations. As a crypto-to-crypto exchange, Binance does not handle government legal tenders making it a transnational exchange hub. For countries where Binance may have been blocked, use VPN to outfox big brother.
Mobile App
Binance mobile app available via Apple iOS and other ecosystems allows you to trade cryptocurrencies right from phones with 24-hour support. The crystal clear and easy-to-use mobile platform means no opportunity will slip through your fingers as you keep your eye on the market trends.
The mobile app gives you the social license to track or manage trade anywhere. Even better, the platform's exchange app provides price alerts for particular trading pairs. The Binance App circulates live notifications with troves of fresh news or updates from their platform.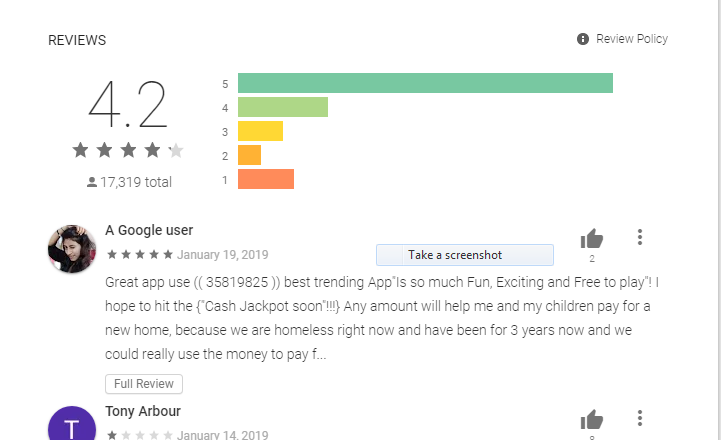 Binance CEO recently announced the app's update on his official Twitter handle adding that a new update also integrates the company's basic information. The app provides users a similar experience to the desktop platform. It has garnered 4.2 star ratings on Google Play.
Customer support
When it comes to the customer support, as usual it is not a smooth curve.  Gone are the days when Binance swiftly responded to a complaint. First, there is no phone number to call; you can only submit a ticket via email.  The sad part is that when you submit a support ticket, you are most likely to get an automated response from a bot, which mostly points you to the FAQ.  Some users say they had a hard time resetting the Google Authenticator.
Sometimes, the customer support will keep you waiting. When you eventually get an actual response from real employee, you have a small window to act; if you fail to act within the scheduled time-frame, the Support terminates your ticket. With a lazy customer support, you can bet the learning curve is sort of costly.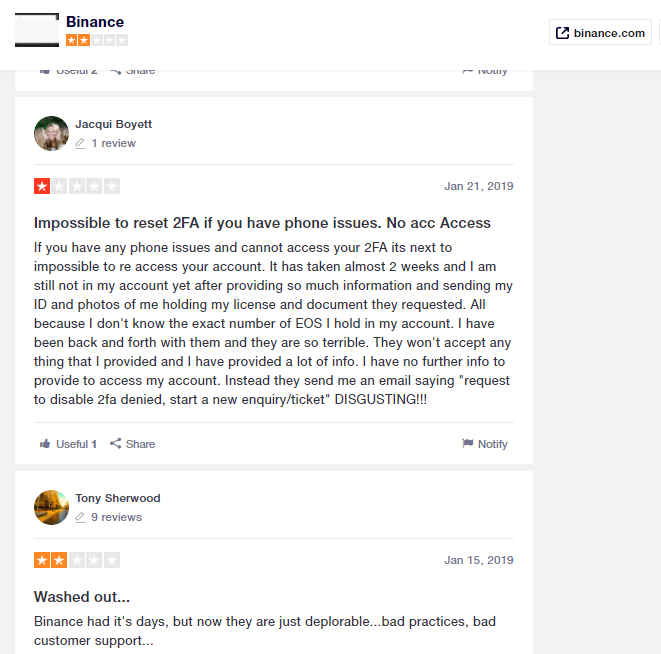 Pros
It has a gorgeous UI/UX.

It offers a variety of trading pairs.

When choosing a trading pair, the price is indicated in USD.

It has a mobile app.

It has not suffered a security breach.

The fees charged are relatively friendly.

High volume bids and ask are highlighted for easier spotting.

Binance says it will support future forks.  

Transfer up to 2 BTC daily for unverified accounts.
Cons
Does not accept fiat currency.

It has low liquidity level.

Not beginner friendly.

It only has limit and market orders options.
You can earn money by staking crypto. Staking is a awesome way to maximize your holdings in staking crypto with Binance. Once you have staked your coins you can earn staking rewards on top of your Binance holdings and grow them by compounding future rewards.
Isn't Binance right for you? Check its best alternatives.