This first European Bitcoin exchange is based in Luxembourg. Bitstamp became sixth largest exchange and for the first six months of 2017 reached value of 12 million € in exchange processed transactions. It controls about 8,9% of the market. Bitstamp suspended its service after a hack during which less than 19,000 bitcoins were stolen in legendary January 2015 but it was reopened nearly a week later.
Fees:
Transaction fee - from 0,2 to 3%
International wire deposits 0,05% (minimum of 7,5€)
International wire withdrawals 0,09% (minimum of 15€), minimum withdraw is 50€
USD/EUR Trades 0,20%
Trading  0,25% per month for amount lower than 20.000€ and 0,1% per month with volume higher that 20.million €
Bitstamp charges for additional services and operational fees (f.e. Decline cash withdraws (0,55€), monthly account fee (1,95€), dormancy fee (1,95€).
Date and place of establishment: 2011 Slovenia
Country of origin: Slovenia, since 2016 moved to Luxembourg
Verification: First of all you need to get your account successfully verified and you will need following::
Your high-quality pictures ( minimum resolution is 300 dpi)
Valid ID ( double page of your passport / both sides of nation ID card / both sides of international driving license; all document must be visible in the entirety)
Proof of residency ( paper document, not older than 3 months, addressed to your name and home address such as bank statement or home bill, tax return etc.)
All verification process takes more than 3 days.Once the verification process is done you will receive an email to inform you that your account is verified so you will be able to deposit funds
Overview
Bitstamp operates within a stringent legal framework enjoined by the European Union. It's based in the United Kingdom and holds a vast portion of its coins in cold wallets to ward off hackers. Bitstamp processes payments through cryptocurrencies, bank transfers, and credit/debit cards.
Even without crunching the numbers, Binance is way ahead of Bitstamp with its whopping volumes from consistently sizable trades.
Website Interface: How friendly is it?
Bitstamp showcases an intuitive platform with a handful of exchange features paired with fresh data such as currency value, Live Trades, volume, and last price. The menu bar has profiles for accounts, transactions, orders' status, redeem coupon, security, verify account, debit card, support, history, and change log. Bitstamp's cryptocurrency offerings only include Bitcoin, XRP, and Litecoin with restricted exchange options.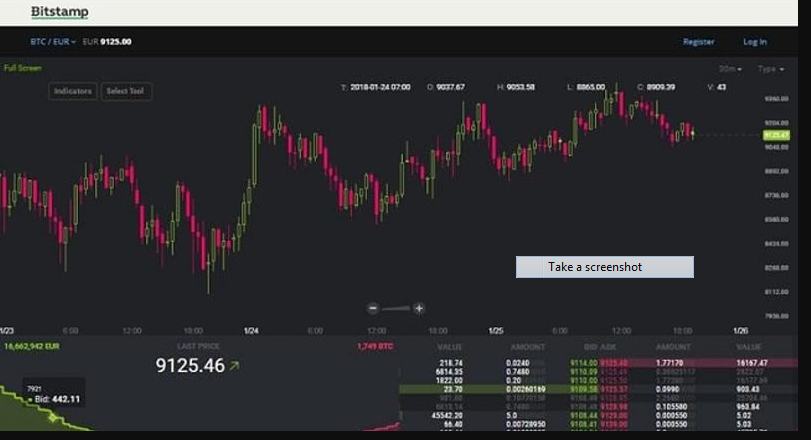 Beginners may find the interface complicated while trying to sell and buy. However, a help page rich in detail makes navigation a breeze for newbies. You have to learn the ropes by engaging repetitively with the platform to fathom charts and esoteric trading data.
Customer Reputation
Bitstamp has complied with the legal framework of its place of domicile. It's certified by the Registrar of Companies for England and Wales with a registered office in London. Unlike fly-by-night or non-registered exchanges, the company has endeared itself as a trustworthy market in the EU and yonder. Bitstamp has to adhere to strict English company and insolvency policy framework, as well as principles of corporate governance. December's CryptoCompare review ranked Bitstamp as the third most stable market within the analysis aggregate pool of exchanges. It also attracted more than 360K visitors.
Although Bitstamp has garnered a terrific customer rating for the time it has been around, there are still some small issues that need attention. While for most customers, Bitstamp is their Go-to Crypto Exchange, others feel their service rating is declining.
Of late, it is not uncommon to come across complaints about Bitstamp. The main challenges revolve around: withdrawal issues, withholding of funds, long processing time for deposits and withdrawals, terminating users' accounts, and at times, Support can be unhelpful. Even so, there are more positive reviews on Bitstamp than negative ones.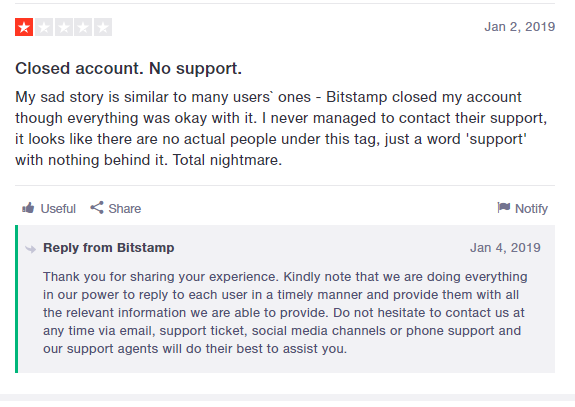 Security & Privacy
Bitstamp once suffered a security breach that involved a loss of $5M  in 2015.  After this phishing attack, Bistamp implemented an broad array  of security technologies to shield user data privacy and prevent loss, hacking, misuse, distortion, or destruction. These measure include:
Password secure directories and databases for improved user, domain and registrar protection.

Secure Socket Layered (SSL) technology to keep data fully encrypted and transmitted across the cyber space securely.

PCI Scanning automatically shields servers against digital terrorists and other vulnerabilities.

Heartbleed attack protection prevents hemorrhage of memory contents.

POODLE attack protection blocks intrusion of server encryption.

Man-in-the-middle (MITM) attack protection keeps prying hackers at bay.

Clickjacking attack protection prevents users from falling prey to hacking traps.

Robot vulnerability protection prevents RSA decryption or signing operations.

Multi-signature technology for both hot and cold wallets.

Use of cold storages to safeguard digital assets.

Use of two-phase authentication with dual passwords.
Privacy concerns
Just like Binance, you don't get the anonymity privilege. Bitstamp collects tons of information from its website users.  Bitstamp collects the following types of information:
Account information: account settings, passwords, username, and preferences.

Contact information: email address, home address.

Identity verification details: Scanned documents of a government issued document, such as a Passport, Driving License, or National ID.

Financial information: Bank account, trading information, and bank statements.

Info related to devices you are using to access Bistamp services, such as your IP address, Operating system, browser type, network system, etc.

Info related to how you are using their website.
Bitstamp wouldn't hesitate to share your info if requested by law enforcement, such as a regulatory body. Plus, in some circumstance, they can share your info with third parties; however, a third party cannot use Bitstamp service to harvest customer data. See Bistamp's Privacy policy page for more info.
Read: Coinbase Review: A comprehensive guide for 2019.
Deposit and Withdrawal Methods Used
Bitstamp has a beginner-friendly platform when it comes to your first deposit. For both deposits and withdraws it uses the following payment methods:
Deposit methods
Credit card/ debit cards.

Bank (SEPA) deposits.

International wire transfer for non EU customers.
Withdrawal methods
Bank withdrawal.

International wire transfers.

You can also withdraw digital coins to a destination address.
Coins Listed
As for Bitstamp, it supports the following digital coins.
BTC.

Litecoin.

Ethereum.

XRP.

GBP.
Verification requirements
As for Bistamp, you can either create an individual/personal account or a corporate account. For A personal account, you have to verify your personal details before you can deposit funds, and start trading.
They will ask for information such as:
Basic account info like Names, address, country of residence, etc.

A government ID.

Proof residence: here you have to submit documents like bank account statements, utility bills, tax statements, and on.
Buy and sell limits
Bitstamp Transfer Limits
Bitstamp has not specified limits for deposits or withdrawals. Some customers have been getting limits of up $20k on debit card purchases. However, it is likely Bitstamp will ask you for KYC documents if you transfer huge amounts. How much are we talking about? I'm not sure -- it can over $50k, $100k -- somewhere along those lines.
Trading Volume
Juxtaposing the two using available data, Binance is light years ahead of Bitstamp that misses out of the top ten global exchanges. Given that the EU contributes a negligible portion of the trading volume, we would expect Binance to blow its counterpart out of the water. Coingecko shows Bitstamp had an average daily volume of $27, 013, 755 on February 4th 2019 -- in 24 hours. Most of the trades are done in BTC/USD, ETC/USD and BTC/EUR pairs.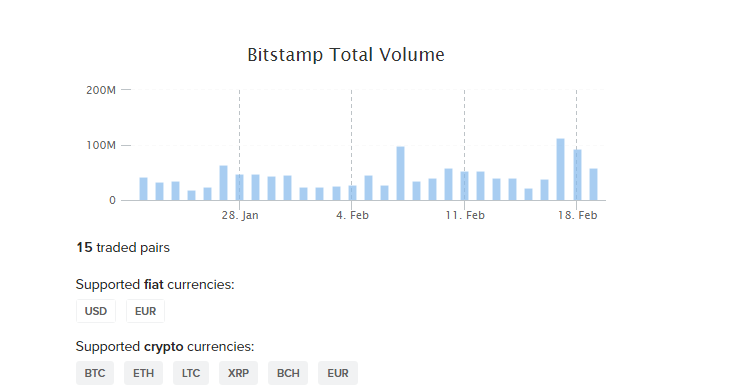 Countries Supported
Does Bitstamp Restrict Any Countries?
Bitstamp supports 28 EU member countries and other jurisdictions outside the European Union. Bitstamp discloses on its Terms of Use that the functions of the site may be restricted based on your country of residence. They also admonish users to comply with the policy framework of their countries. You must also consent and comply with the Terms of Use for indefeasible trading rights.
App review
The Bitstamp mobile app keeps the crypto universe at your fingertips making trading convenient with up-to-the-minute information. The Android and iOS apps boast online platform features that add piquancy to the mobile world. Users can deposit or withdraw digital assets directly, complete payments using QR codes along with bitcoin addresses, reconfigure app with PIN code verification and access real-time insiders' data.
The functionality pales in comparison with Binance's app because it omits various features that make up the lifeblood of trading. The bot does not allow you to trail stop losses, copy trading, and autonomous mean-reversion exchanges. It has raised more eyebrows from users upset by limitations and annoying bugs. The app has 2.8 star ratings on Google Play.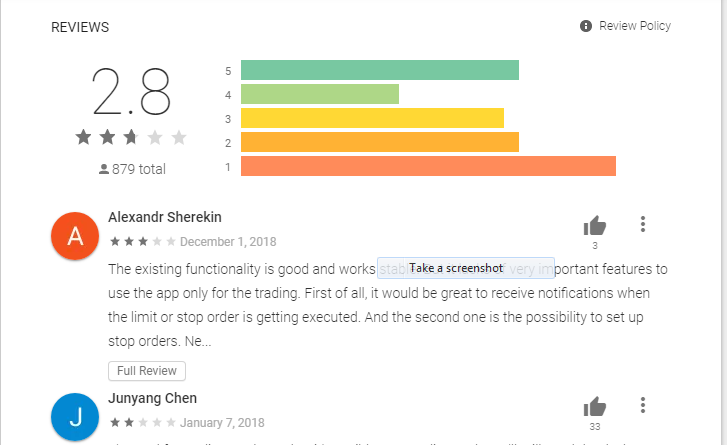 Customer Support Review
Bitstamp has built a strong brand reputation with its innovative drive to enhance exchange features and crypto offerings. Bitstamp responds to any customer complaints directly with its support team. Unlike Binance's ticketing system, you can send a message to support@bitstamp.net or call their Customer Care team at +44 20 3868 9628.
Unlike most Exchanges that are a mess when it comes to customer service, Bitstamp are trying to be ahead of the game. Not that the support service needs no improvements, but Bitstamp support has been praised for being quick, friendly, and professional.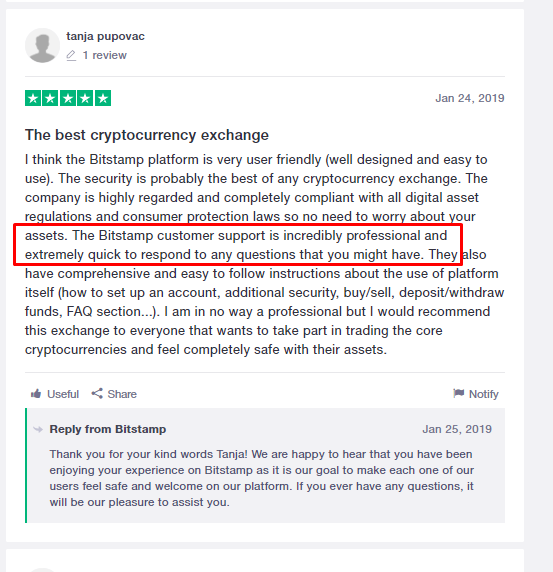 Bitstamp has a designated FAQ covering plethora issues revolving around beginner queries and advanced user concerns. It packs a rich vein of information if you want to get blockchain technology down to a fine art. Moreover, Bitstamp's help page incorporates articles directing users on how to verify a personal account, make a first deposit, PGP Key, and trade cryptocurrencies.
Pros
It is reputable and has good industry rating.

It offers both simple and advanced features.

Reasonable fees.

Top-security measures.

Available worldwide.

High volume + liquidity.

No hidden fees.

Accepts fiat currencies.
Cons
Less altcoins.

Sometimes the customer support is slow.

Not suitable for beginners.

Strict KYC.

No margin trading.

Credit card deposit carry high fees.
You can earn money by staking crypto. Staking is a awesome way to maximize your holdings in staking crypto with Bitstamp. Once you have staked your coins you can earn staking rewards on top of your Bitstamp holdings and grow them by compounding future rewards.
Isn't Bitstamp right for you? Check its best alternatives.