Basic data
Date and place of establishment: 2011 San Francisco, USA
Country of origin: USA
Verification: First of all you need to get your account successfully verified and you will need following::
Your high-quality pictures ( minimum resolution is 300 dpi)
Valid ID ( double page of your passport / both sides of nation ID card / both sides of international driving license; all document must be visible in the entirety)
Proof of residency ( paper document, not older than 3 months, addressed to your name and home address such as bank statement or home bill, tax return etc.)
All verification process takes more than 3 days.Once the verification process is done you will receive an email to inform you that your account is verified so you will be able to deposit funds.
Overview
Kraken is also based in San Francisco, California. In comparison to Coinbase, it has an estimated annual revenue of $3.1M, and historically, it has only received a funding of $5M in total. On Facebook, Kraken has around 64.7K followers and 13.8K fans on twitter as of January 2019. Jesse Powell is the CEO.
When he launched the private business in 2011, a huge volume of bitcoin markets were depending on a single Exchange, Mt. Gox. Mt. Gox was covering about 70 percent of all bitcoin trades. Following poor management of Mt.Gox where Jesse was among the entrepreneurs helping Mt.Gox recover from the "heist of the century''.  Tracing the missing coins and assisting with investigations. When Kraken beta version was later launched in 2013, it was simply an alternative to Mt.Gox.
Now, Kraken is among the leading cryptocurrency Exchanges with trading volume of $74, 685, 620 USD as of 28th January 2019 – this is equivalent to 21, 854 worth of BTC. See the 24 hours trading volume different pairs in the screenshot below.
Approach to the users
Kraken recently updated their trading platform to Beta version, an approach that was aimed at resolving bugs that were causing traders to lose money. The new trading engine features two trading interfaces: there is a simple interface for ordinary buy and sell transactions, and there is the advanced interface with features for the experienced trader. If you are getting started in crypto, the simple interface will be easy to crack; but we cannot say the same about the advanced interface.  You may need to play around with the interface to get acquainted with the trading platform.
Customer reputation
Since its has been in operation, Kraken's credibility has been tested to the limit.  While the company has tried to maintain a clean track record, it has not been a smooth sail either – some hiccups here and there, indeed. Traders who have opted to use Kraken like the Exchange because of several reasons: the low fees, strong security measure, it is open to all, and it provides traders with option to trade in crypto and fiat currencies.  
Nonetheless, like any most centralized exchanges, not everyone seems to have a pleasant experience. But that is expected because in crypto, even these Exchanges are operating in murky waters. For most complaints, the issue was support being slow at times, limiting of users' funds, delaying/suspending withdrawals.  Some customers also say Kraken has been censoring customer complaint on social forums like Reddit or providing canned responses to every query.
Also, many users report that the trading interface needs some work – a lot of bugs are causing customers to lose funds.  A trader took to Reddit, saying he lost over $40k due to unresolved bug in Kraken.   Yet another user says he lost over 3 BTC when Kraken went down for over 40 hours.
Please note: the experience is different for every user.
Privacy and Security
Kraken has not suffered any major hits apart from the usual account hacks, which happen often because  of users mismanaging logins/passwords.
Many other exchanges have been hacked; among them, Bitstamp, Mt. Gox, and Poloniex. So, what is Kraken doing different to secure their system?:
Kraken stores 85% of its funds in an offline wallet, the wallet is stored in a safe location, too.

Kraken's servers are built in a safe location under weaponized patrol to ensure the safety of your cryptocurrency.

Their system's data is encrypted and is updated daily.

The Kraken internal system is separated from customer information. So, the staff can not access your private data.

Like Coinbase, Kraken also uses 2-factor authentication. This means; without an SMS code from their systems, no one can access your account even if they have your password.

Kraken uses PGP and GPG encryption to secure communication to their users. So, ensure your inbox is PGP enabled. Then, go to the settings page and copy paste your PGP public key to encrypt your emails from hackers' interceptions.

The company also has a global security lock. The global security lock conceals your sensitive information and prevent private key changes over a set period.

Kraken has rolled out a bug bounty program as well to resolve errors.
Kraken takes certain precautions to ensure the data they collect from does not fall into the hands of unauthorized parties.  Measures they undertake include: SSL encryption, 2-factor authentication; review of the methods used to collect, store, and process personal info periodically; restricting access to info to only parties approved by Kraken, such as affiliates, subcontractors, and Payward Inc, employees.
Kraken privacy concern
Kraken also complies with the AML and KYC laws; so they are obligated to collect your personal data. When you register with them you will be asked to give the following information:
Legal name.

home address.

Email address.

Phone number.

Date of birth.

Proof of identity (driver's license, ID, passport, etc).

Government issued Identification number like the U.S. Social Security Number or any other document of the like.
Kraken also collects the following information automatically:
Location information (IP address, domain name, time zone setting)

Log information.  This includes info related to the devices you are using to access Kraken's services.

Account information (orders, trades, balance, disbursement and funding instructions, etc)

Correspondence information (the email and numbers you use to contact Kraken's support)
Kraken also collects additional  information about you from their partners. Under certain circumstances,  Kraken may disclose the collected data with third parties: It can affiliates, business partners, law enforcements,  an obligation by a court order, among other reasons. See Kraken's privacy policy page. Some rumours say Kraken is among the Exchanges that's alerting the IRS about your crypto by issuing customers with 1099-k statements.
Deposit and Withdrawal methods used
As for Kraken, it does not accept debit, credit cards and PayPal. Instead they accept:
Note: only Tier 3 and Tier 4 account holders can use wire transfers. The Tiers account level depends on the degree of your account verification with Kraken.
Fees:
Kraken offers the best fees package compared to Coinbase. However, it's fee for deposit and withdrawals are straightforward, it's trading fee structure is sort of complex.  Here is how the fee looks like for deposits and withdrawals:
Fiat Deposits:
U.S. citizens pay $5, non-U.S citizens pay $10 ?

USD SWIFT transfer is $10.

EURO deposits for SEPA transfer are free.

EUR Wire transfer: €5 for Fidor and €10, SMBC.

CAD  deposits are free.

JPY deposits are free but the minimum is capped at

¥5,000.
Fiat Withdraws
SEPA withdrawals for European countries stand at

 €0.09.

EUR SWIFt (SMBC) attract a fee of €60.  

U.S citizens pay $5 while non-U.S. citizens using SWIFT to transfer USD pay $60.

You incur $10 for CAD withdrawals.
Cryptocurrency deposits and withdrawals fee
While there are no fees for depositing digital coins, there is a fee (which is subject to change) for withdrawal of different cryptocurrencies.  For the top coins most traded, the current fees are listed below:
Bitcoin – 0.005 BTC.

Bitcoin Cash  0.001 BCH.

Cardano – 0.3 ADA.

Dash – 0.05 (normal transactions) or 0.01 (instant transactions).

Ether – 0.05 ETH.

Ether Classic: 0.005 ETC.

Litecoin – 0.01 LTC.

Monero – 0.0001 XMR.



Trading Fees


The trading fee will vary depending on the following factors:
If it is a maker or taker order.

Your trading volume in USD for past 30 days.

The currency pair you are trading with.

Your order's total value (Cost).
For margin lenders, there are additional fees payable: Opening fee and Rollover fee.  The total value of your order will determine the fees you pay as margin fees.
Coins listed
Bitcoin
Ether
Gnosis
Litecoin
Augur
Melon
EOS
QTUM
Bitcoin Cash
Cardano
Ripple
Monero
Dash
Stellar
Zcash
Iconomi
Dogecoin
Deposit and withdrawal limits
Kraken features different limits for the various payments methods they offer: deposits, withdrawals, margin trading, Wire transfer U.S. Citizens, and "High Limit USD Funding".
For Fiat and cryptocurrency deposits and withdrawals, the limits are as explained:  
Tier 1

: Deposits and withdrawals are free. As for Cryptocurrency, deposits are unlimited while withdrawals have a limit of $2.5k and $20k for daily and monthly limits respectively.

Tier 2

: Deposits and withdrawals are capped at $2k daily, and $10k monthly -- for fiat currencies. Cryptocurrency deposits are unlimited while the limit for daily and monthly is $5k and $50k, respectively.

Tier 3

: Deposit are $25k and withdrawals are $200K.  Cryptocurrency deposits are unlimited while the daily and monthly limits are $50k and $200k, respectively.

Tier 4

: Daily deposits and withdrawals are $100K; monthly limits are over $500k. Tier 4 grants you unlimited deposits for crypto coins, and over 500k for withdrawals.
USD Limit (Wire transfers for U.S. customers)
If you are have a verified U.S account, you can access different limits for wire transfers; but only if you in Tier 3 and above. See the screenshot below: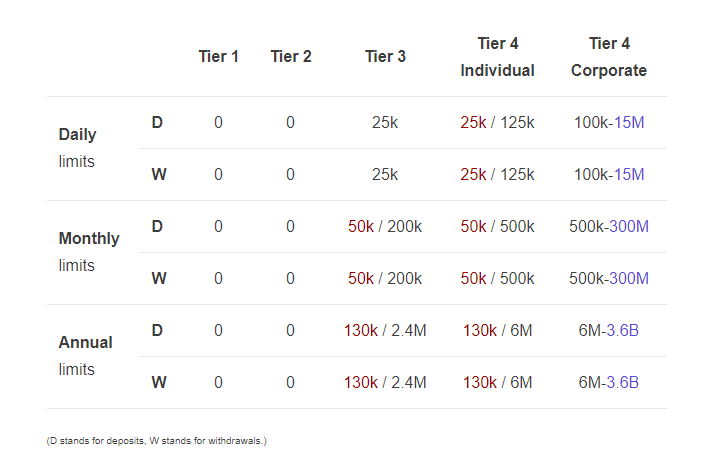 High Limit USD Funding
For Select Tier 4 account holders (both individual and corporations), they can opt for High Limit USD Funding. This option is for people moving large sums of money; a minimum of $50k. Also note that it the service is open to U.S. citizens and some specific countries.

Margin borrowing limits
At Kraken, you can borrow funds (margin borrowing) to open a trading position that is higher than your account balance.  You can borrow funds up to eight cryptocurrencies, and two fiat currencies -- USD and EUR.
The margin borrow limits look like this: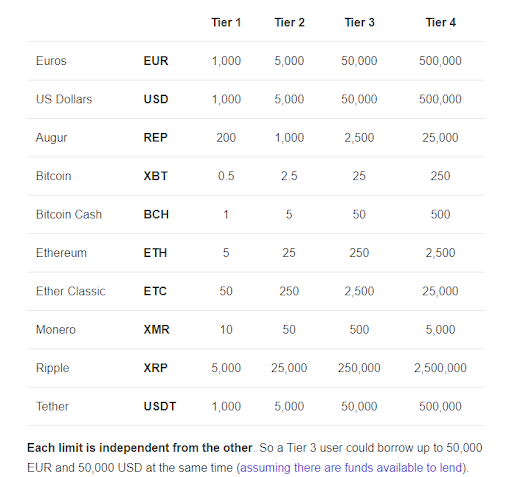 Trading volume
Kraken's trading volume has been steadily rising.  Covering a period of time, the trading volume has been marked by both highs and lows.  Looking at data for the past six months – between August 2018 and January 2019 – Kraken has traded around 2M in BTC. With USD, EUR and CAD gobbling the biggest share of the value traded. As of 12th February 2019, Kraken had a 24-hour trading volume of $57, 868, 335 equivalent of 15, 934 Bitcoins traded -- according to Coinmarketcap.com.
Countries supported
Kraken is available globally. However, the platform uses only two languages: English and Japanese.
Customer support review
The customer support at Kraken is alright.  It would say it has level up to the industry standards; however, it still needs improvements.  You can contact Kraken two ways: by submitting a support ticket or engaging them via a live support system (available 24/7).  Unfortunately, there is no way to reach them via a phone. Some people will never feel completely safe until Kraken and other Exchanges alike can provide a real phone number.  Every reputable business has one.
Nonetheless, when you submit a ticket, Kraken will get back to you in good time, although sometimes the team may take weeks to resolve your issue.  But then again, the customer influx is so massive, the environment is getting harder to operate in by day.
Pros and cons
Pros
Kraken has tight security measures.

Trading fees are pocket-friendly.

Globally available.

Offer a variety of altcoins and fiat currencies.

Offers margin trading.

Mitigate losses using the stop loss order functionality.

Website interface design is terrific.

Best alternative for fiat to crypto buys (particularly if you are in SEPA zone).
Cons
No phone customer support.

Not suitable for newbies.

Slow verification process.

Trading interface needs improvement  (remove bugs) to enhance traders experience.

Support ticket response is slow sometimes.

No debit card purchases.

Kraken has experienced website downtimes.

Scaling Challenges.
You can earn money by staking crypto. Staking is a awesome way to maximize your holdings in staking crypto with Kraken. Once you have staked your coins you can earn staking rewards on top of your Kraken holdings and grow them by compounding future rewards.
Isn't Kraken right for you? Check its best alternatives.