Overview
LetsExchange is the innovative cryptocurrency exchange that is designed as the one-stop station for your transactions. The exchange is totally free of registration a doesn't require almost any limits. LetsExchange has a pretty good user-friendly interface and would save you a lot of time. LetsExchange takes simplicity to the whole another level. The whole interface works like the one great widget. And you can swap the currencies within the seconds. Just choose your given crypto pair, enter the right amount and paste your crypto wallet address. Then click on the Exchange button and you got it made.
The exchange offers also two types of trades: you can pick between floating and fixed rates. So if you are afraid of the volatility of some coins, you can set the exchange order with the right amount and price. Choose the Fixed Rates option and you will get the exact amount you see before the start of the process. Or you can keep it simple with the floating rates option.
Assets
You can choose from more than 200 cryptocurrencies. And besides all major coins, you can swap also the newest and popular coins and tokens as Safemoon and the others. LetsExchange offers really great menu of crypto-.assets.
Bitcoin.

Ethereum.

Litecoin.

Zcash.

IOTA.

NEO.

EOS.

AKR.

Among 200 more coins.
Website Interface
The exchange process is fully automated and you need just mere seconds – of course, depends on the network speed of the selected currencies. The LetsExchange's developers created the very innovative technology called SmartRate. It automatically picks the most profitable rate across many crypto exchanges for your desired swaps.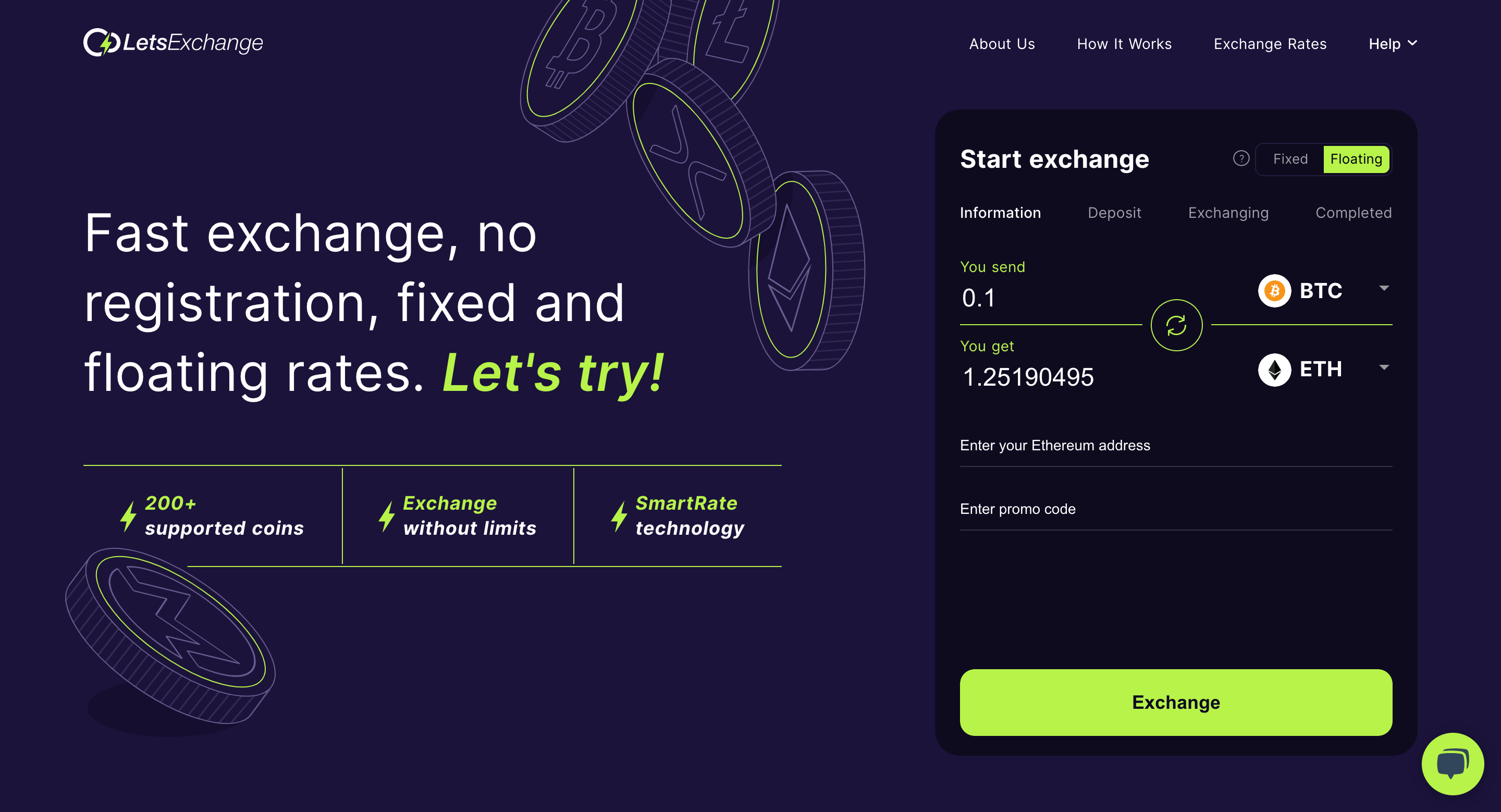 Pros
You don't have to register
Various digital coins listed.
It is beginner-friendly.
High trading volume.
Best exchange rates
Cons
You can earn money by staking crypto. Staking is a awesome way to maximize your holdings in staking crypto with LetsExchange. Once you have staked your coins you can earn staking rewards on top of your LetsExchange holdings and grow them by compounding future rewards.
Isn't LetsExchange right for you? Check its best alternatives.