You might have heard about SushiSwap, UniSwap, and PancakeSwap. These platforms are different from other standard crypto trading platforms like eToro and Binance. How? Platforms like PancakeSwap is a decentralized exchange used for peer-to-peer transactions without the need for third-party intervention. You can buy and sell coins directly from your digital wallet as long as it's connected to the platform. 
PancakeSwap is still foreign to new investors. If you're a newbie and you want to know more about this DEX, you've got the right page. 
What is PancakeSwap? 
PancakeSwap was launched in September 2020. It's a decentralized exchange built on the Binance Smart Chains (BSC), and its platform features liquidity pools without permissions automated by algorithms. What makes PancakeSwap an automated market maker (AMM) is the algorithm used by its developers. 
So, what makes PancakeSwap so popular and unique? Well, the fact that the sound of its name sounds so yummy makes it appealing to investors. BakerySwap and SushiSwap are among the first decentralized exchanges before Pancake follows. As you explore the blockchain, you will discover more tokens inspired by food. 

What's Pancake's token? 
Pancake's token is called CAKE, while its pool is named SYRUP. It's a BEP-20 token built on BSC, which is somehow better than Ethereum blockchain because of fast transactions and lower charges. CAKE may be treated like Sushi and Uniswap tokens built as ERC-20 tokens. 
If this is your first time hearing about AMM, don't worry. The concept is simple. It's a programmed exchange built on the blockchain so investors can trade their digital coins against liquidity pools in exchange for rewards. It is different from traditional trading since you are like investing in a bond where your buy order is matched, and you only earn money if you sell your digital assets. For many investors, it's an easy way to earn passive income without monitoring charts daily. 
PancakeSwap Earning Features 
The first thing investors want to know in a liquidity pool is the ways how they could earn if they join the craze. In PancakeSwap, you have more than one option to earn. The platform allows the exchange of BEP-20 tokens, as well as providing liquidity for exchange pools. On top of these, you can also stake your coins for rewards. In summary, here are the earning features of PancakeSwap: 
Trade BEP-20 tokens on the platform.
Provide liquidity and earn rewards from it. 
Join the pool by staking your LP (liquidity provider) and earn rewards. 
Join the pool by staking your CAKE coins and get more coins. 
Stake your CAKE in exchange for other coins as your reward. 

What to like about PancakeSwap 
Now, PancakeSwap has tons of features that you will surely like. Once you start staking and joining the liquidity pool, you will be satisfied with the great results. Here are the major advantages of PancakeSwap compared to other decentralized exchanges. 
More tokens to earn 
With PancakeSwap, you can get more tokens by simply lending your coins. Providing liquidity and staking are similar as far as your coins are concerned. In both activities, you will allow Pancake to use your coins for a period of time, and in exchange, you will receive rewards. You can opt for CAKE or other coins as a reward. Some coins you can receive are UST, DODO, and LINA. They are all on BSC like CAKE. 
The protocol is audited.
Before its ICO, PancakeSwap had gone to protocol auditing. There were a series of processes to ensure that the exchange is as safe as possible for investors. If you're looking for security, PancakeSwap is a good option. CertiK was the firm that audited the platform and applied protections such as DeepSEA, Security Oracle, CertiK Shield, and the CertiK Virtual Machine. 

Minimum fees and fast transaction 
Who wouldn't want low fees when investing? Compared to decentralized exchanges that are built on Ethereum, PancakeSwap charges minimal fees, ranging from $0.04 to $0.20. Other platforms have as much as $20 fees because of the expensiveness of the Ethereum blockchain. Transactions are also fast. There's no need to wait for hours for transactions' execution. Usually, it takes as fast as 5 seconds to do a transaction on PancakeSwap. 
No need for personal information and IDs
KYC requirements are sometimes the reason why personal data are easily stolen. The good thing with new decentralized exchanges today is that there's no need for personal information and IDs anymore. You can start buying coins, stake and provide liquidity without undergoing the KYC process. Just link your exchange wallet to start doing the activities you want. 
How to trade on PancakeSwap? 
To start trading on PancakeSwap, you don't have to look for another platform anymore. The official platform of PancakeSwap is the best place to trade tokens. Just head to the platform here, connect your exchange wallet by clicking "Connect" at the top right corner of your screen and start choosing transactions you would like to make. 

If you have a Binance App, it's easier for you to trade there since you don't have to go to another platform. You can keep all your trades together in one place. Download the Binance App on your smartphone or go to its official website, log in, and start buying and selling coins. 

What wallet can you connect to PancakeSwap? 
There are various exchange wallets that you can connect to PancakeSwap, such as MetaMask, MathWallet, TokenPocket, and WalletConnect. MetasMask is an ERC-20 digital wallet, but it has the capacity to support BEP-20 assets too. 
How much PancakeSwap fees should you pay? 
When providing liquidity on PancakeSwap, you received trading fees in exchange for using the liquidity you provide on the platform. When you trade, you will receive Liquidity Provider (LP) tokens as your rewards. As a holder of LP tokens, you get a percentage of the trading fees spent by investors. However, not all of it will go to your wallet. PancakeSwap charges around 0.03%, which goes to the PancakeSwap Treasury. 
How does staking work? 
Apart from trading, you can also stake CAKE tokens and earn from them. The concept of staking is different from trading, as you are basically putting your coins in a staking pool so that PancakeSwap can use it to make blocks. Your CAKE will be locked for a certain period. After that, you can get more CAKE tokens as your reward. 
You start staking by depositing some CAKE and BNB into your digital wallet. Once connected, go to "Pools" on the left sidebar of the platform and choose the pool where you want to contribute. The good thing about staking CAKE is that you only pay a minimum fee, unlike when you stake other coins. 

How is the CAKE token distributed?
Staking and providing liquidity to the exchange will introduce you to PancakeSwap's emission rate. This is the basis for CAKE distribution. Based on PancakeSwap's website, here's the current emission rate: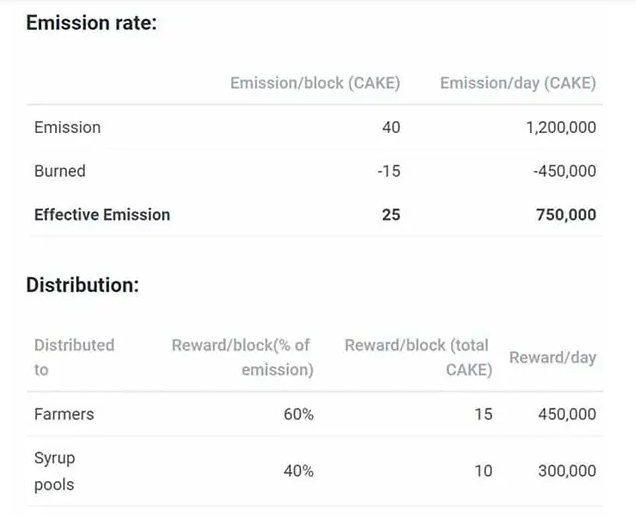 Distribution
The reward per block is 40 CAKE, and 15 of it is burned, leaving 25 tokens as the effective emission reward. 
60% of the 25 CAKE or 15 CAKE goes to farmers
40% or 10 CAKE goes to syrup pools
The daily rewards for farmers are 450,000. 
The daily rewards for syrup pools are 300,000. 
There are other deflationary measures that you need to consider as well, including 0.09% of CAKE sent to developers to burn, 10% of CAKE spent on lottery tickets, and 100% of the tokens in IFO is burned. These fees are subject to the plans of the platform's governance. They may change once in a while. 
Start using PancakeSwap 
There are a lot of things that you can do on PancakeSwap. This decentralized exchange is not that hard to use. Even newbies can start using PancakeSwap without technical skill. Although the platform is more challenging to navigate than other crypto trading platforms, you will eventually get the hang of it once you start your first stake. 
If you don't have an exchange wallet first, you need to set it up first before you can start using Pancake. You can head to MetaMask, Trust Wallet, or other digital wallets to create your account. Once you have it, go to PancakeSwap to start using it. 
Need a more comprehensive guide when using PancakeSwap? Let's start with providing liquidity. 
Providing liquidity 
Those investors who have used AMMs are surely familiar with the process already. For newbies, this might be challenging at first since you will expect to submit your personal information and IDs. The good thing with decentralized exchanges like PancakeSwap is that you stay anonymous. There's no need to submit your personal credentials, just your digital wallet. 
The first thing you can explore on PancakeSwap is providing liquidity. When you are on the platform, find "Trade" from the left side of the screen and select from the drop-down options. Select "Liquidity," then click "Add Liquidity." Choose the token pair you want to invest in. You have to select each token in your pair. If it's a new pair, you will need to set the price for this new pool. 
When providing liquidity, remember that you are subject to impermanent loss. This is the risk of the price increasing from the time you bought your digital assets. The larger the price increase, the bigger the loss is. 

Joining the lottery
When you join PancakeSwap's lottery, you are like betting in a usual lottery game. The only difference is that you are using CAKE tokens rather than cash. To participate in the lottery, you need to have more than 10 CAKE tokens. There are four lottery sessions in a day, and each one runs for 6 hours. When you buy a ticket for 10 CAKE, you will receive a combination of four digits from number 1 to 14. If your random combination matches the winning numbers, you will win half of the lottery pool.
The winning numbers need to match your combination perfectly. For example, you have 1-11-4-8, the winning numbers should also be 1-11-4-8. If your numbers are 1-4-11-8, you will not win the jackpot prize because your combination is not in order. You don't have to worry if you only got 2-3 matching numbers. You will still win tokens.
For example, there is 15,000 CAKE in the lottery pool. Half of it, or 50%, will go to the winner while the 20% will go to the people who have three numbers that match the winning numbers and 10% to those who have two numbers. If there is more than one winner, the prize is divided depending on how many people win.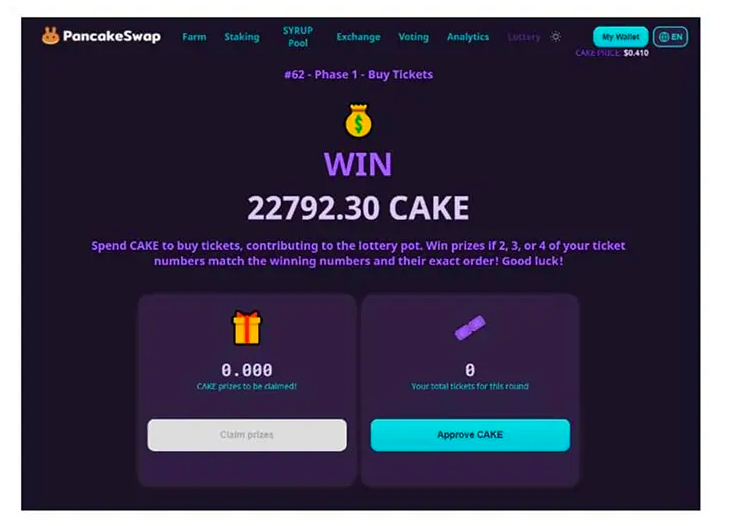 Earn from farming
There is also an activity called "farming" or simply staking, where you simply deposit your LP tokens, wait for a certain period to lapse, and harvest your LP tokens plus your rewards. This is one of the most appealing features of PancakeSwap. The rewards are 200x bigger than what you can get from your bank. 
You can start farming by staking your LP tokens from your liquidity pool. In the left sidebar of your screen, go to "Farms," then choose the option available with your LP tokens. There are various options, as seen in the screenshot below.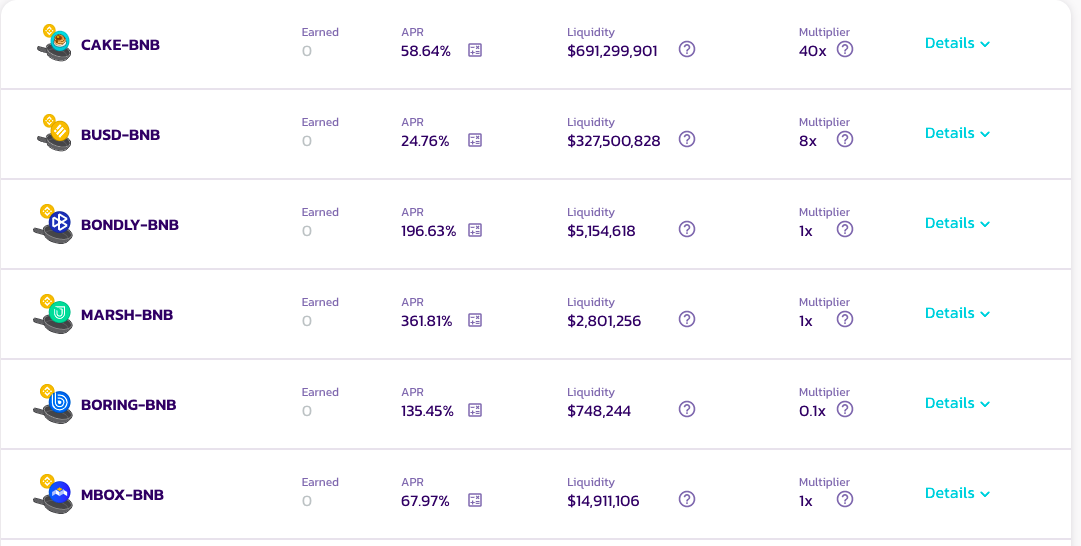 Each of these pairs has a different APR rate. Some can go as high as 361.81%, while others can give 24.76%. The APR rate is applied yearly, so your monthly interest would be pro-rated. Once you have your preferred token, you have to approve the transfer from your LP pool to the syrup pool. You also need to confirm the transaction by signing in to your wallet. 
What you will get from farming is CAKE. Instead of getting cash, your interest would be in the form of CAKE tokens. This is somehow better than earning from the price increase of coins since you will have more digital assets on hand. If you plan to use your CAKE tokens in some other ways, you will have plenty of coins to use, and you can sell them whenever you want. 
Remember that there are risks when you farm or stake. You can't avoid the risks, especially now that you are dealing with a volatile investment. Impermanent losses may occur when the price of the tokens increase or decrease significantly from the time you bought your coins. You should be ready to bear the losses. 
Invest in non-fungible tokens 
Last but not least is NFTs or non-fungible tokens. This is where you buy digital arts and collectibles. It's easy to earn from NFTs too. The process is as simple as buying digital art than selling it for a higher price after some time. 
However, with PancakeSwap, you don't buy NFTs; you win them by participating in activities such as farming, staking, and joining in the lottery. Winners are chosen randomly. You are lucky if you get one of these limited-edition tokens!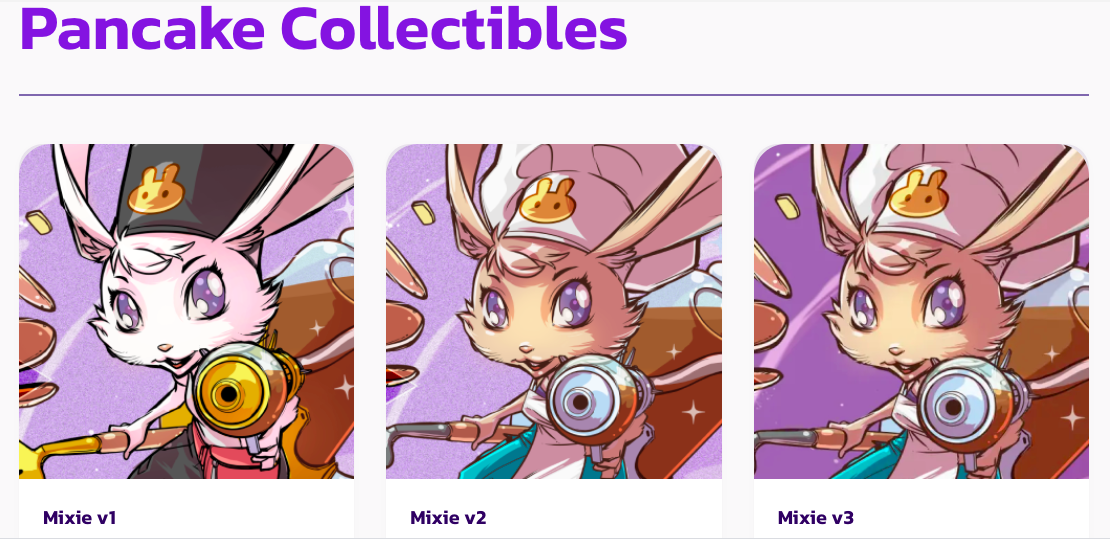 Wait for an initial farm offering (IFO) 
PancakeSwap also launches its initial farm offering (IFO) to introduce newly launched tokens. They are usually distributed to new users who farm on PancakeSwap. To get access to the newly launched coins, you need to commit your LP tokens to one of the supported pools.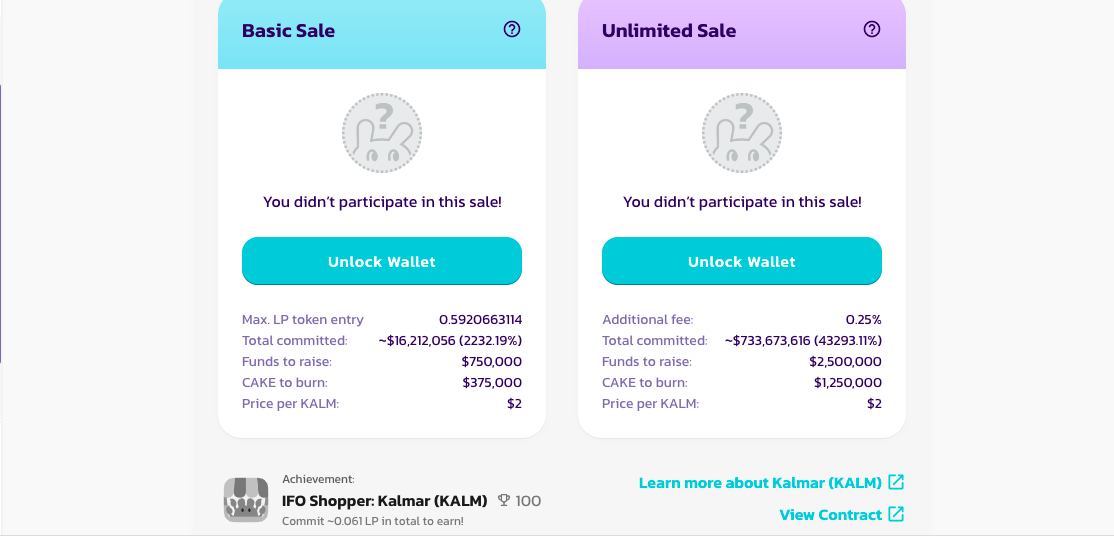 About the CAKE token
The price increase of CAKE is insane. From the launch price of $1.37, it climbed up to $44.18 in April. As of this writing, its price stands at $17.980. Considering the market volatility for the past week, CAKE is still one of the best-performing tokens right now.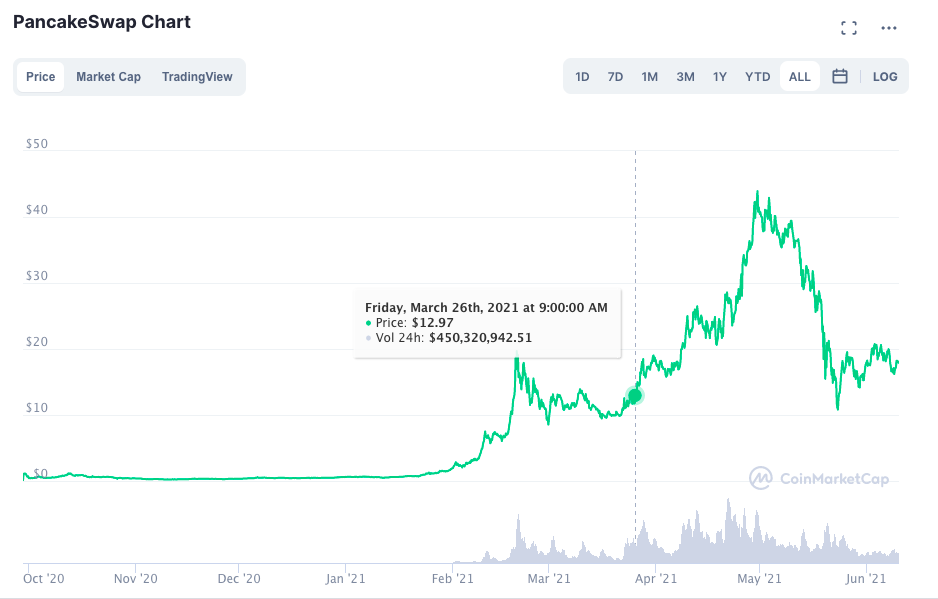 So, is PancakeSwap safe?
To conclude, PancakeSwap is as safe as other established decentralized exchanges out there. The fact that you remain anonymous while using the platform is something that adds up to your security. Your coins are safely secured in your digital wallet while you are earning. Plus, PancakeSwap was audited by the famous blockchain auditing firm CertiK before it was launched. This means that the protocol is at the highest level of security before its launch.
Should you consider using PancakeSwap? If you want to earn more in the crypto market, it's definitely worth the try!
Published: 06/11/2021