The boom of cryptocurrencies is insane. Now, you have thousands of cryptos to choose from, unlike before when there was only Bitcoin and other unpopular coins. The market is also more stable, considering billions of investors believing in the future of digital assets.
We know you've heard about Litecoin—the 13th cryptocurrency with the highest market capitalization. In this blog, we will share with you the best mining pools we know where you can save fees and earn more coins without advanced technical skills. Let's start with having a brief introduction to Litecoin.
What is Litecoin?
Litecoin is an alternative coin (altcoin) to Bitcoin. Some of the other popular altcoins are DOGE, XRP, ADA, and BNB. Charlie Lee founded this coin in 2011. If Bitcoin can find blocks every 10 minutes, Litecoin can do it as fast as 2.5 minutes. This implies that Litecoin's network is four times faster than Bitcoin.
Things to remember when looking for a mining pool
Before we delve into the best Litecoin mining pool, let's do a quick rundown of the top mining pool categories.
The first thing you have to look for if you want to earn more coins is the mining fee. There are mining pools that charge expensively. Let's say, 3-4% mining fees. You can find places where mining fees are only at 0.03%-0.05%. Start comparing the fees when you have a good list of mining pools.
The second consideration is the minimum payout. How much are the minimum coins you can withdraw? The lower the minimum payout is, the better. This is so you can easily withdraw your investments and rewards without waiting for a specific threshold. Lower payouts can also mean stable and regular payments.
Finally, look for a mining pool that is near to you. Servers are located across the globe. There are those in Asia, Europe, and America. If you are from Europe, it's best to choose a mining pool with a server in Europe. The reason for this is simple—the closer the server to you, the lesser hash power is used by the network. This means lower fees and more rewards.
Top Litecoin Mining Pools
Here are the top Litecoin mining pools in no particular order.
P2Pool
P2Pool is an established mining pool with a large user base. It's a public mining network that anyone can join without going through the KYC process. It's a decentralized platform that's great for any cryptocurrency. If you have a Litecoin wallet address, you can easily connect it to P2Pool, and by default, your address can be your username, and you can set up anything as your password.
The good thing with P2Pool is that its decentralized network allows for a good distribution of nodes, and its security is to the next level. It has low difficulty work, and when a part of the work is completed, miners receive their pool share. If blocks are assembled into the blockchain in the case of Bitcoin, P2Pool's shares are combined into a sharechain. Once there are blocks already, investors are paid directly to their wallets, depending on their share.
Here's a screenshot of some of the Litecoin pools in P2Pool: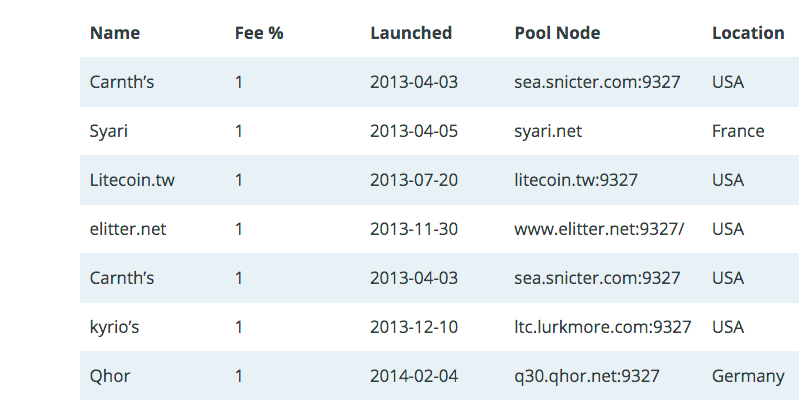 ProHashing
ProHashing is also a large mining pool for Litecoin. It was founded in 2014 and had been operating since then. Three engineers started this mining pool, and two of them are brothers. On top of Litecoin, you can also mine SHA-256, x11, and Equihash tokens in this mining pool.
This mining pool utilizes a PPS (pay per share) payment model, which is a system that pays investors in the form of any coin they like to receive. For example, if you are mining Bitcoin, you can get paid by Litecoin or Ethererum. You can also choose to get paid in dollars! Interesting, isn't it? What's more appealing is that ProHashing has low mining fees compared to other mining pools. It charges a flat fee of 4.99%, which is a fee for all of its features.
With ProHashing, you have the opportunity to automatically mine your coins. You can fix it under your account's setting. What ProHashing will do is to merge cryptos whenever possible to maximize profitability. With automatic mining, you use your hash power to mine coins.
Here's a screenshot of the pool's script stat:

viaBTC
Although the name of this pool has BTC, you can definitely mine Litecoin on this platform. This is the 5th largest Litecoin mining pool on the internet. On top of Litecoin, you can also mine other popular coins such as BTC, Bitcoin Cash, ETH, Zcash, and Dash. When it started as a Bitcoin mining pool in 2016, it added Litecoin in 2017.
With viaBTC, you can opt for your PPS payment scheme. There is also a common payment system called pay-per-last-n-shares (PPLNS). Mining pools including viaBTC use this. The miner pays the maintenance charge of 4%, for PPS payments while miners who use the PPLNS payments pay 2%.
Using combined mining, fees viaBTC payout 800 DOGE per each 1 LTC produced. Individuals who prefer not to invest in their mining gear may instead opt for cloud mining through viaBTC.
Here's a screenshot of viaBTC's pool statistics: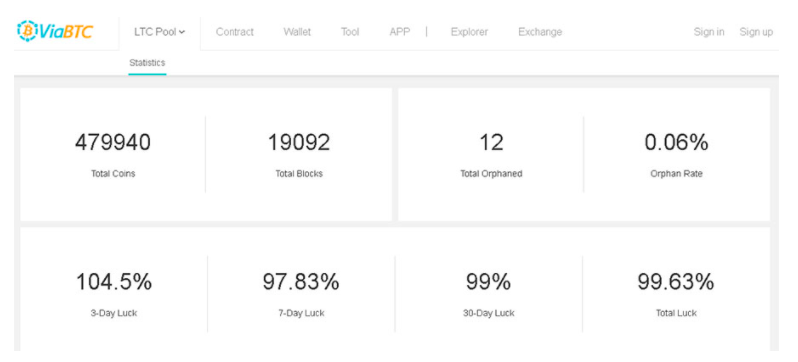 LitecoinPool.org
In 2011, one of the major Litecoin developers, Pooler, launched the LitecoinPool.org mining pool. Due to this, the pool has had a good reputation from the beginning. The pool controlled almost 40% of Litecoin's hash power for a period in the first half of 2012.
This Litecoin mining pool is known for being among the oldest and biggest. A merged mining pool, which utilizes both primary coin mining and secondary coin mining, yields the greatest results due to the mining of the secondary cryptocurrency. Litecoin network orphans a block, yet you still get paid.
This pool is ideal for people from practically any area worldwide since it offers eight geographically different servers.
Here's the pool statistics of LitecoinPool.org:


Large Mining Pools vs. Small Mining Pools
It's important to understand that there is no "perfect" Litecoin mining pool, but a suitable Litecoin mining pool depending on your purpose. An example is that the top 3 Litecoin mining pools, Antpool, F2Pool, and LTC.top, are based in China and have most of their web pages in Chinese. Investors think that this isn't best since the servers are somehow limited in China.
Choosing a Litecoin mining pool is simple if you know how. To optimize your mining returns, choose a pool server location nearby to your location and make sure that it has minimal fees to decrease your spending.
If you are to choose between large and small mining pools, it is suggested that you avoid utilizing the biggest mining pools to prevent anyone pool from rising to 51% control of the network hash rate. It's important to keep in mind that the size of the mining pool does not correlate how successful it will be.
So, is mining Litecoin worth it?
Definitely, you can still earn some cash by mining Litecoin. But be aware that it's getting tough to mine with a GPU. To mine Litecoin profitably, you will need to use a high-end GPU. This is because Bitmain produced an ASIC Scrypt miner a year ago. Mining with the help of a GPU can't compete with the sheer power of the Antminer L3+ Bitmain mining devices.
These ASIC miners for mining Litecoin and other Scrypt algorithm cryptocurrencies are your best options if you're looking to use them in 2018 and beyond. The great news is that the ASIC Litecoin miner costs less than the equivalent GPU.
Published: 06/14/2021