Bitstamp VS. Binance review: unfolds a showdown between two cryptocurrency trading platforms at the forefront of digital assets exchange. But which one between the two do you go with? Are they two peas in a pod or are they as different as chalk and cheese?
In this comparison, we stacked the two up against each other by collating troves of data from industry watchdogs, social forums, views of corporate management, popular news sites, and target audiences. I will cover their features such as interfaces, customer reputation, trading volumes, trans-fees, and pros vs. cons.

I may not capture all aspects in this article but I will go the extra mile to cover in exhaustive detail features underpinning a strong brand name and trailblazer in the sector. All in all, you'll discern which one best suits you and hedge your bets in the crypto space.
Table of content
Bistamp VS. Binance: Key information




Binance Overview

Bitstamp Overview

Website Interface: How friendly is it?

Binance

Bitstamp

Customer Reputation

Security & Privacy

Deposit and Withdrawal Methods Used

Binance vs. Bitstamp: Fees

Coins Listed

Verification requirements

Buy and sell limits

Trading Volume

Countries Supported

App review

Customer Support Review

Pros & Cons

Final Thoughts
Bitstamp Vs. Binance: Key information
Exchange

Bitstamp

Binance

Site Type

Cryptocurrency Exchange

Cryptocurrency Exchange

Reputation rating

Above average

Above average

User-friendliness of the site

Not beginner friendly.

Not beginner friendly.

Funds and data security

4.5 out of 5 starts

4.5 out 5 stars

Start-up year

2011

2017

Headquarters location

London, United Kingdom

San Francisco, California

Payment Methods

Debit/Credit cards, SEPA, International Transfer, and cryptocurrencies.

Cryptocurrencies, credits cards and debit cards.  

Mobile App

Yes

Yes

Verification required

Yes for all account levels.

Yes for Level 2 Accounts.

Customer support rating

Above 4.0 Stars

Above 4.0 stars

Purchase limit

No limits for verified users

Level 1: eqv. of 2 BTC
Level 2: eqv. of 100 BTC.

Trading volume in BTC (for last six months)

1.73M (September 2018-January 2019)

An average of $650M-$700M  per month.

Review guide

-

-

Visit site

Binance
Binance Overview
Binance is a newly-created brainchild founded by a team of experts in China but later transferred their headquarters to crypto-friendly Malta. The Maltese-based company dwarfs its rivals with the highest total daily visitor count, high liquidity and eye-popping trading volumes. The top exchange also attracts heavy web traffic, an emblematic factor of staggering trading volumes.
A study conducted recently by "The Block" highlighted that the crypto company made away with $446M in profits, in 2018 -- during a bear market.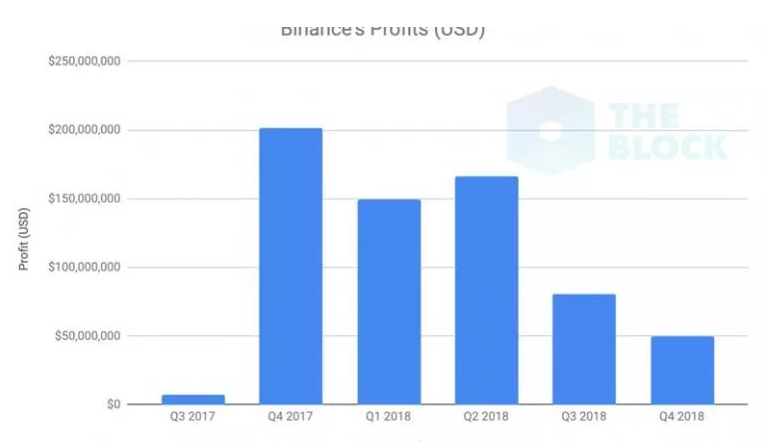 Bitstamp Overview
Bitstamp operates within a stringent legal framework enjoined by the European Union. It's based in the United Kingdom and holds a vast portion of its coins in cold wallets to ward off hackers. Bitstamp processes payments through cryptocurrencies, bank transfers, and credit/debit cards.
Even without crunching the numbers, Binance is way ahead of Bitstamp with its whopping volumes from consistently sizable trades.
Website Interface: How friendly is it?
Binance
The Binance website offers multi-language support, welcomes the bandwagon of new users and facilitates transactions. The interface contains a detailed navigation bar, icon of news, charts, and an exhaustive table of currency pairs.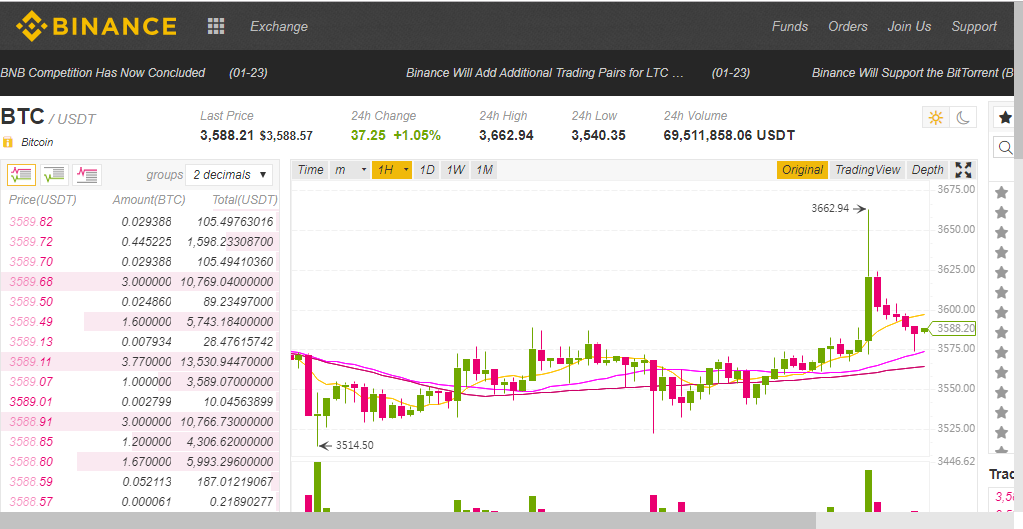 The website application displays up-to-the-minute market listing data with 24-hour fluctuations and last pricing for currency pairs. At the outset, Binance provided a safe haven for sophisticated traders, but later it enticed a deluge of novel traders thirsty for its broad array of altcoins. It offers a basic and advanced interface version. The nuanced and subtle data will rack your brains as a novice because the sections lack illustrative labels.
Bitstamp
Bitstamp showcases an intuitive platform with a handful of exchange features paired with fresh data such as currency value, Live Trades, volume, and last price. The menu bar has profiles for accounts, transactions, orders' status, redeem coupon, security, verify account, debit card, support, history, and change log. Bitstamp's cryptocurrency offerings only include Bitcoin, XRP, and Litecoin with restricted exchange options.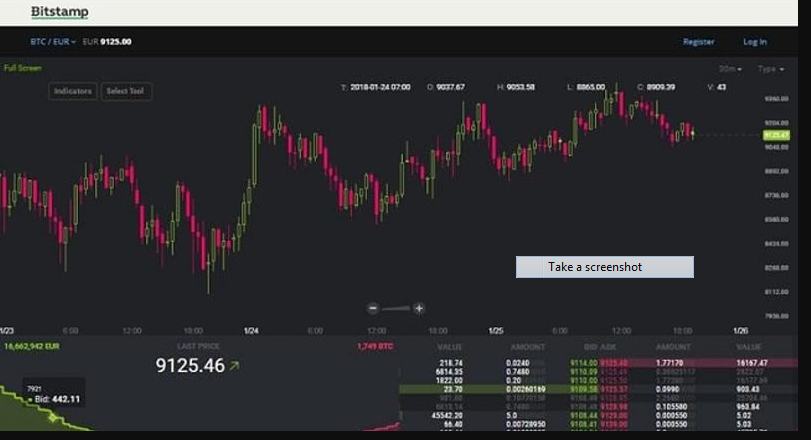 Beginners may find the interface complicated while trying to sell and buy. However, a help page rich in detail makes navigation a breeze for newbies. You have to learn the ropes by engaging repetitively with the platform to fathom charts and esoteric trading data.
Customer Reputation
Binance
Despite Binance attaining a significant toehold in the crypto market, attracting a million unique visitors every month, it is not always a smooth sail. While some people found a spot a Binance, we cannot say for sure it is the case for everyone.
Like most Exchanges, it is notorious for locking customers' accounts if they notice suspicious activity with your account.  With this in mind, Binance has been accused of scamming people to pay off their debts. Some customers have turned to platforms to voice their complaints. Like this user who says Binance locked his account with a whopping 1,200 Bitcoins – approximately $7.8 million – and the reasons for doing it are unclear as the affected user says he has not been involved with any fraudulent activities. On the contrary, we cannot tell for sure whether it is Binance in the wrong or the user was a victim of phishing.

Some people complain of getting locked out of their accounts.  Users are unable to bypass the 2FA security; reaching out to support seems unhelpful because Binance may take some time to get back to you.
There are a significant number of users who say they lost their funds as they were unable to access their accounts without having to reset 2FA. They will insist you provide info that you would probably know at your fingertips if signed into your account.  They ask about:
Your account balance.

The address you sent the coins from.
Not everyone can keep or remember some of these details.  Unfortunately, Binance does not care; that means you get locked out of your account forever.
Question: what do they do with funds belonging to locked accounts?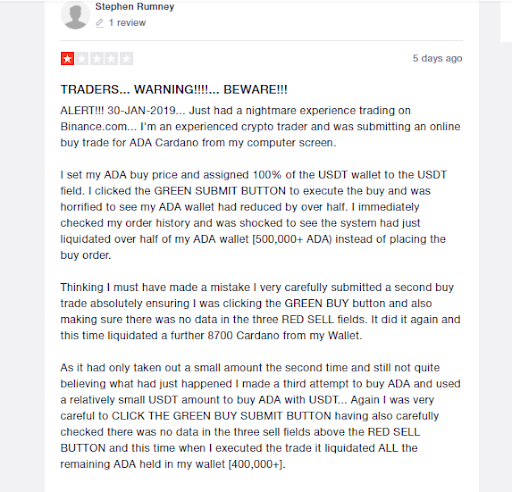 Bitstamp Brand Reputation
Bitstamp has complied with the legal framework of its place of domicile. It's certified by the Registrar of Companies for England and Wales with a registered office in London. Unlike fly-by-night or non-registered exchanges, the company has endeared itself as a trustworthy market in the EU and yonder. Bitstamp has to adhere to strict English company and insolvency policy framework, as well as principles of corporate governance. December's CryptoCompare review ranked Bitstamp as the third most stable market within the analysis aggregate pool of exchanges. It also attracted more than 360K visitors.
Although Bitstamp has garnered a terrific customer rating for the time it has been around, there are still some small issues that need attention. While for most customers, Bitstamp is their Go-to Crypto Exchange, others feel their service rating is declining.
Of late, it is not uncommon to come across complaints about Bitstamp. The main challenges revolve around: withdrawal issues, withholding of funds, long processing time for deposits and withdrawals, terminating users' accounts, and at times, Support can be unhelpful. Even so, there are more positive reviews on Bitstamp than negative ones.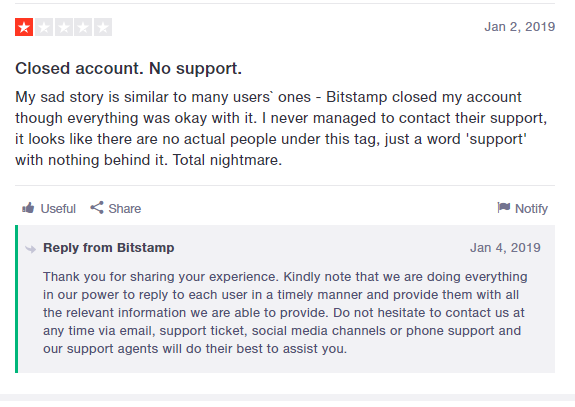 Security & Privacy
With hackers lurking crypto space, global exchanges have created robust ecosystems and infrastructure to shield personal privacy. Crypto exchange security breaches fuel price slumps and tait industry image. When such happens, investors stage mass exodus pulling out of even multi-billion businesses with solid prospects of growth.
Binance Ecosystem Security
Binance developers have implemented measures to shield users from scams, digital thieves and curb money laundering. Binance data privacy and protection ensures users information is not compromised, lost, or corrupted. Key security standards that ward off errors or attacks include:
Using IP addresses or cookie data to shield against automated infiltration such as phishing, spam and Distributed Denial of Service (DDoS) attacks.

Using accumulated data to detect suspicious trading behavior to block potential fraud, quarantine funds and protect the entire ecosystem

Leverages IP addresses or unique identifies archived in your device's cookies to authenticate identity

Integrates PCI scanning, pseudonymisation, stringent physical access controls, and internal data availability restrictions.

Use of Secured Sockets Layered encryption technology.

POODLE attack protection throws hackers off the scent with impermeable browsing encryption.

Protects infrastructure from Heartbleed attack.

Man-in-the-middle (MITM) attack protection forestalls supervening digital terrorism.

Privacy Policy and Consent Form incorporates the General Data Privacy Regulation (GDPR) policy framework.

Use of SMS two-factor verification and Google Authenticator.
A while back, Binance intercepted funds stolen from Cryptopia.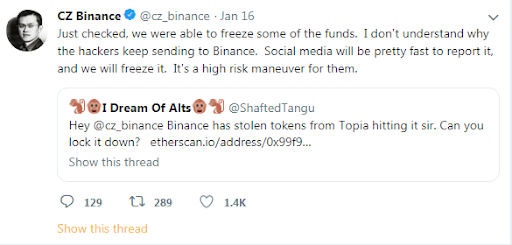 P.S: Be vigilant as there are many Binance phishing websites out there.
Privacy concern
For AML/KYC reasons, Binance asks for personal details for different account levels. Users who have Personal & Enterprise-level accounts are required to verify certain identity information. Binance does not disclose who they contact or share the info you provide for KYC reasons.
Apart from asking for personal details, Binance also monitors and tracks information related to your account, including transaction data. They collect details like the date & time you login, IP address, browser type, the operating system you are using, and device information.
On top of the information you submit for identity verifications, Binance collects transaction details for user who holds a personal or an enterprise account. This will include details like: your account balances, order activity, trade history, distribution history, and withdrawals.
Details you submit for verification purposes include:
Government ID.

Phone number.

Contact information.

Your official names.
Bitstamp Ecosystem Security
Unlike Binance, Bitstamp once suffered a security breach that involved a loss of $5M  in 2015.  After this phishing attack, Bistamp implemented an broad array  of security technologies to shield user data privacy and prevent loss, hacking, misuse, distortion, or destruction. These measure include:
Password secure directories and databases for improved user, domain and registrar protection.

Secure Socket Layered (SSL) technology to keep data fully encrypted and transmitted across the cyber space securely.

PCI Scanning automatically shields servers against digital terrorists and other vulnerabilities.

Heartbleed attack protection prevents hemorrhage of memory contents.

POODLE attack protection blocks intrusion of server encryption.

Man-in-the-middle (MITM) attack protection keeps prying hackers at bay.

Clickjacking attack protection prevents users from falling prey to hacking traps.

Robot vulnerability protection prevents RSA decryption or signing operations.

Multi-signature technology for both hot and cold wallets.

Use of cold storages to safeguard digital assets.

Use of two-phase authentication with dual passwords.
Privacy concerns
Just like Binance, you don't get the anonymity privilege. Bitstamp collects tons of information from its website users.  Bitstamp collects the following types of information:
Account information: account settings, passwords, username, and preferences.

Contact information: email address, home address.

Identity verification details: Scanned documents of a government issued document, such as a Passport, Driving License, or National ID.

Financial information: Bank account, trading information, and bank statements.

Info related to devices you are using to access Bistamp services, such as your IP address, Operating system, browser type, network system, etc.

Info related to how you are using their website.
Bitstamp wouldn't hesitate to share your info if requested by law enforcement, such as a regulatory body. Plus, in some circumstance, they can share your info with third parties; however, a third party cannot use Bitstamp service to harvest customer data. See Bistamp's Privacy policy page for more info.
Read: Coinbase Review: A comprehensive guide for 2020.
Deposit and Withdrawal Methods Used
Binance: Deposit & Withdraw
For a longest period Binance has been in Business, it has been operating as pure cryptocurrency exchange.  You could only transfer virtual currencies like Ether and Bitcoin.
Now, some wonderful news for Binancians: debit cards and credit cards are now being accepted as payment method. Binance is accepting both Visa and Mastercards.
Bitstamp
Bitstamp has a beginner-friendly platform when it comes to your first deposit. For both deposits and withdraws it uses the following payment methods:
Deposit methods
Credit card/ debit cards.

Bank (SEPA) deposits.

International wire transfer for non EU customers.
Withdrawal methods
Bank withdrawal.

International wire transfers.

You can also withdraw digital coins to a destination address.
Binance vs. Bitstamp: Fees
Binance Trading Fees
Binance Fee Schedule stipulates 0.1% trading fee computed based on your traded volume over a one month period and BNB balance. If you own BNB tokens, the company deducts your fees from your BNB balance. In fact, the fee decreases by up 50% when you clear using BNB.
For example, a level 2 user "VIP 1" transferring more than 100 BT, and holds a minimum of 50 BNB, reaps a higher discount compared to a trader in tier one.  See the screenshot below.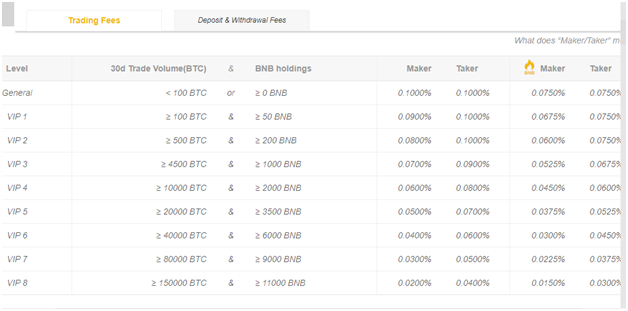 Essentially, your maker/taker fee, and your tier level will depend on the above mentioned factors.  
Deposit fees
Cryptocurrency deposits are free of charge.

Credit card and debit card carry a fee of 3.5% per transaction or pay $10 -- which is higher.
Withdrawal fees
Withdrawal fees are dependent on the blockchain fee applicable for every coin.  
Here is what the withdraw fee looks like for specific coins: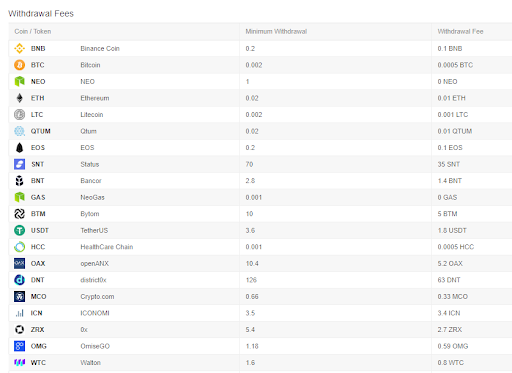 Bitstamp Fees
Bitstamp Deposit Fees
SEPA deposit transactions are free of charge

Credit card purchases attract a flat fee of 5%

International wire transfer deposits carry 0.05% fee

Depositing cryptocurrencies like Bitcoin, Ripple XRP,Litecoin, Ethereum, and Bitcoin cash is free of charge
Bitstamp Withdrawal Fees
SEPA withdrawals carry 0.90EUR.

Credit card purchase attract 5% fee.

International wire transfer withdrawals carry 0.09% and a minimum of 15 USD.

Withdrawing cryptocurrencies such as Bitcoin is free of charge with the exception of BitGo Instant that costs 0.1%.
Bitstamp Trading Fees
Bitstamp has a unified Fee Schedule for all trading pairs computed at a fixed percentage. The fees decrease proportionally with increase in 30 days trading volume. It starts from an exceedingly low 0.25% for trading volumes below $20,000.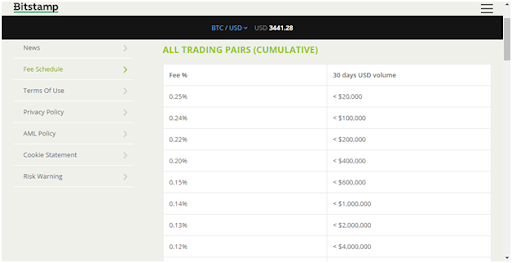 Coins Listed
Binance
Binance offers a wide selection of virtual currencies with a variety of trading pairs like BTC, Ethereum, USD Tether, Binance Coin, and many others. Among the top listed coins include:
Bitcoin.

Ethereum.

Litecoin.

Omisego.

Dash.

IOTA.

NEO.

EOS.

AKR.

Among 200 more coins.  See Cryptomarketcapt.com
Bistamp
As for Bitstamp, it supports the following digital coins.
BTC.

Litecoin.

Ethereum.

XRP.

GBP.
Verification requirements
Binance
Binance has three account levels.
Level 1: In this tier you don't have to submit personal info. You just have to verify your email  to get a

daily limit of 2 BTC.

Level 2: When you activate Google Authenticator or two-factor authentication, you account rises to tier two. Also, tier two requires that you submit details like: basic info like your real names; your contact information; your government ID, driving license or passport; and, a selfie. Accounts in this tier can transfer up to

100 BTC per 24 hours

.

Level 3: If you need to transfer more than the amount allowed in tier two, you can contact Binance support to get level-3 verification.
Bistamp
As for Bistamp, you can either create an individual/personal account or a corporate account. For A personal account, you have to verify your personal details before you can deposit funds, and start trading.
They will ask for information such as:
Basic account info like Names, address, country of residence, etc.

A government ID.

Proof residence: here you have to submit documents like bank account statements, utility bills, tax statements, and on.
Buy and sell limits
Binance Transfer Limits
Binance  places limits for withdrawals only; there are no limits for deposits. Your withdrawal limit will depend on your account level.  The limits are as follows:
Level 1: 2 BTC daily.

Level 2: 100 BTC daily.

Level  3: 100+ BTC daily.



Bitstamp Transfer Limits
Bitstamp has not specified limits for deposits or withdrawals. Some customers have been getting limits of up $20k on debit card purchases. However, it is likely Bitstamp will ask you for KYC documents if you transfer huge amounts. How much are we talking about? I'm not sure -- it can over $50k, $100k -- somewhere along those lines.
Trading Volume
Binance Exchange Volume Rankings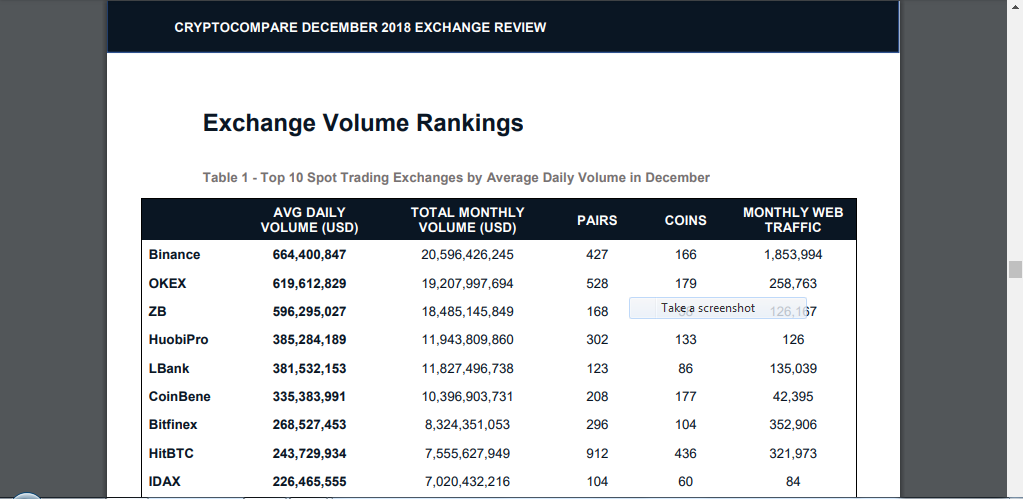 Monthly macro exchange report circulated by CryptoCompare showed Binance at the top of the league, gobbling the lion's share of the entire trading volume. The review published on December 5 2018; ranked Binance as the top exchange by total monthly volume. The company's total monthly trading volume plummeted by 13% on average since November.  As of 4th February, Binance had a trading volume of $736,293, 347 per 24 hours.
Bitstamp Exchange Volume Rankings
Juxtaposing the two using available data, Binance is light years ahead of Bitstamp that misses out of the top ten global exchanges. Given that the EU contributes a negligible portion of the trading volume, we would expect Binance to blow its counterpart out of the water. Coingecko shows Bitstamp had an average daily volume of $27, 013, 755 on February 4th 2019 -- in 24 hours. Most of the trades are done in BTC/USD, ETC/USD and BTC/EUR pairs.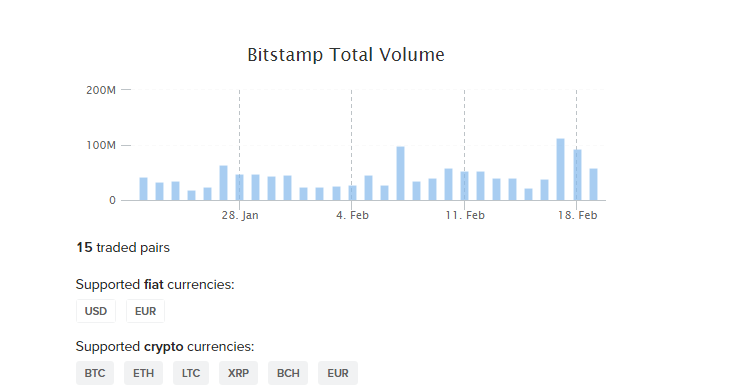 Countries Supported
With their eyes on blockchain upside potential, countries such as Bermuda, Malta, and Gibraltar have established a business-friendly policy framework. Government crackdown in Japan and China saw Binance headed to lenient Malta.
Does Binance have any restrictions?
Binance has not exclusively restricted any states or explicitly listed supported countries. Binance mission to become the unchained global exchange for cryptocurrencies with the largest customer base. The platform doesn't filter users IP addresses to shut down accounts from any geographical locations. As a crypto-to-crypto exchange, Binance does not handle government legal tenders making it a transnational exchange hub. For countries where Binance may have been blocked, use VPN to outfox big brother.
Does Bitstamp Restrict Any Countries?
Bitstamp supports 28 EU member countries and other jurisdictions outside the European Union. Bitstamp discloses on its Terms of Use that the functions of the site may be restricted based on your country of residence. They also admonish users to comply with the policy framework of their countries. You must also consent and comply with the Terms of Use for indefeasible trading rights.
App review
Both platforms have launched mobile apps, but which one puts its rival in the shade?
Binance Mobile App
Binance mobile app available via Apple iOS and other ecosystems allows you to trade cryptocurrencies right from phones with 24-hour support. The crystal clear and easy-to-use mobile platform means no opportunity will slip through your fingers as you keep your eye on the market trends.
The mobile app gives you the social license to track or manage trade anywhere. Even better, the platform's exchange app provides price alerts for particular trading pairs. The Binance App circulates live notifications with troves of fresh news or updates from their platform.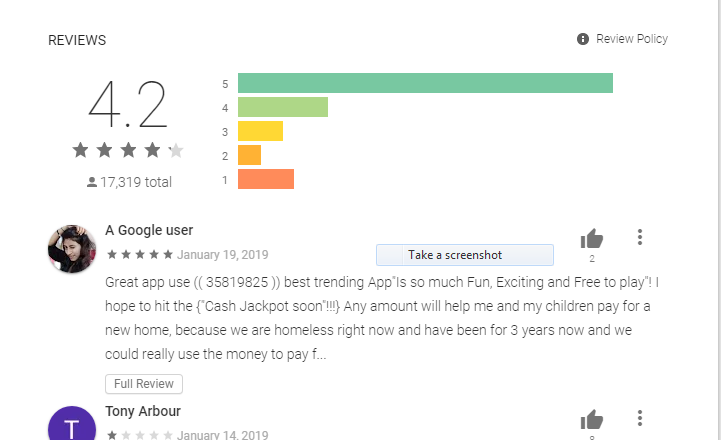 Binance CEO recently announced the app's update on his official Twitter handle adding that a new update also integrates the company's basic information. The app provides users a similar experience to the desktop platform. It has garnered 4.2 star ratings on Google Play.
Bitstamp Mobile App
The Bitstamp mobile app keeps the crypto universe at your fingertips making trading convenient with up-to-the-minute information. The Android and iOS apps boast online platform features that add piquancy to the mobile world. Users can deposit or withdraw digital assets directly, complete payments using QR codes along with bitcoin addresses, reconfigure app with PIN code verification and access real-time insiders' data.
The functionality pales in comparison with Binance's app because it omits various features that make up the lifeblood of trading. The bot does not allow you to trail stop losses, copy trading, and autonomous mean-reversion exchanges. It has raised more eyebrows from users upset by limitations and annoying bugs. The app has 2.8 star ratings on Google Play.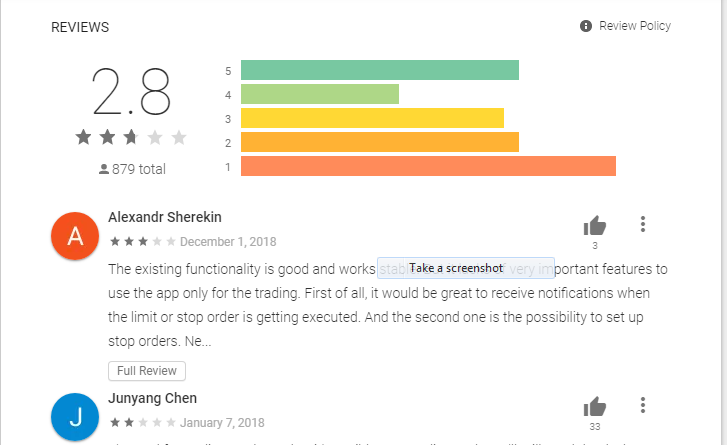 Customer Support Review
Binance customer support
When it comes to the customer support, as usual it is not a smooth curve.  Gone are the days when Binance swiftly responded to a complaint. First, there is no phone number to call; you can only submit a ticket via email.  The sad part is that when you submit a support ticket, you are most likely to get an automated response from a bot, which mostly points you to the FAQ.  Some users say they had a hard time resetting the Google Authenticator.
Sometimes, the customer support will keep you waiting. When you eventually get an actual response from real employee, you have a small window to act; if you fail to act within the scheduled time-frame, the Support terminates your ticket. With a lazy customer support, you can bet the learning curve is sort of costly.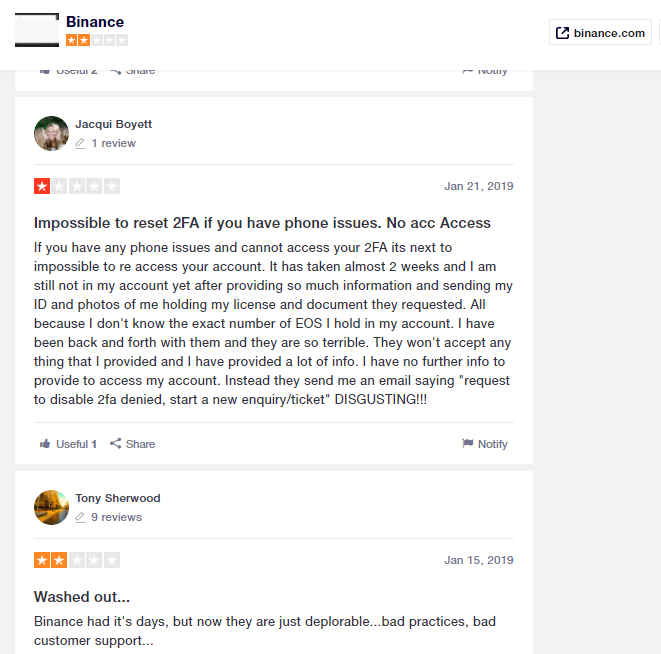 Bitstamp Customer Support
Bitstamp has built a strong brand reputation with its innovative drive to enhance exchange features and crypto offerings. Bitstamp responds to any customer complaints directly with its support team. Unlike Binance's ticketing system, you can send a message to support@bitstamp.net or call their Customer Care team at +44 20 3868 9628.
Unlike most Exchanges that are a mess when it comes to customer service, Bitstamp are trying to be ahead of the game. Not that the support service needs no improvements, but Bitstamp support has been praised for being quick, friendly, and professional.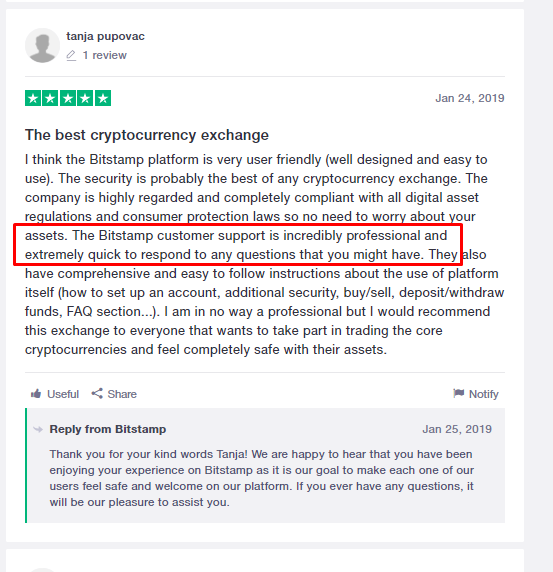 Bitstamp has a designated FAQ covering plethora issues revolving around beginner queries and advanced user concerns. It packs a rich vein of information if you want to get blockchain technology down to a fine art. Moreover, Bitstamp's help page incorporates articles directing users on how to verify a personal account, make a first deposit, PGP Key, and trade cryptocurrencies.
Pros & Cons
Binance Pros
It has a gorgeous UI/UX.

It offers a variety of trading pairs.

When choosing a trading pair, the price is indicated in USD.

It has a mobile app.

It has not suffered a security breach.

The fees charged are relatively friendly.

High volume bids and ask are highlighted for easier spotting.

Binance says it will support future forks.  

Transfer up to 2 BTC daily for unverified accounts.
Binance Cons
Does not accept fiat currency.

It has low liquidity level.

Not beginner friendly.

It only has limit and market orders options.
Bitstamp Pros
It is reputable and has good industry rating.

It offers both simple and advanced features.

Reasonable fees.

Top-security measures.

Available worldwide.

High volume + liquidity.

No hidden fees.

Accepts fiat currencies.
Bitstamp Cons
Less altcoins.

Sometimes the customer support is slow.

Not suitable for beginners.

Strict KYC.

No margin trading.

Credit card deposit carry high fees.
Final Thoughts
Now that you know a thing or two about Bitstamp VS. Binance comparison analysis, you can make an informed choice about your go-to exchange. We have dissected various aspects that portray profound differences between the two platforms. Wise investors stay updated and scrutinize market risks such as bubbles. Exchanges operate in murky waters because of unforeseeable changes such as government crackdown, inflationary spiral and hacking. Assess every exchange meticulously assess before buying, selling or trading digital assets. Share this article if it was helpful on Facebook, Twitter or Google+.

Additional resources:
Published: 03/27/2019