With so many cryptocurrency projects popping up – right, left, and center – choosing a digital wallet in a market flooded with a variety of options can be puzzling. As I write this, you can pick from over 200 digital wallets. -- and that number excludes malicious apps.
The veteran crypto trader or 'hodler' will tell you that over the years, they have had to gamble with all sorts of wallet options. Unfortunately, on this journey, some have lost their investments through wallet hacks, or by installing untrustworthy apps. Some have lost funds because of using hard-to-manage wallets; for others, it was carelessness that cost them. Such experiences can keep the young crypto player at bay.
In this blog post, I will be giving you the ins and outs of the Exodus wallet – everything you need to know about Exodus. From there, you can decide for yourself whether it worth the hassle. :-)
First, let's look at what the article covers below.

Table of contents 
Key stats
An Overview of Exodus wallet
Customer reputation
User-friendliness of the Interface
Who is most suited to use Exodus wallet?
Compatibility
Security & Anonymity
Exodus wallet fees
Coins supported
Customer support  Review
Getting started with Exodus Wallet (Depositing coins)
Exchanging assets
Summary: Pros & Cons
Final Thoughts
Additional resources:
Key stats
| | |
| --- | --- |
| Customer Reputation | 4.8 stars |
| User-interface (how friendly) | 4.5 stars |
| Security and Anonymity | 4.5 stars |
| Fees | 3 stars (high) |
| Customer support | 4.8 stars |
An Overview of Exodus wallet
The Exodus wallet is a multi-crypto application that is partially open source.  Even though it is not open-source, it is one of the wallets that gives you full control of your assets – that is, the Exodus team does not hold or control your private keys.  Having control of your private keys is a critical rule when playing in the crypto game.
JP Richardson and Daniel Castagnoli launched the application back in 2016. Although it is not fully open-source, when it comes to user experience, it has truly outshined many wallets.  It comes with an exquisite design, plus tons of features that will get you mesmerized. More importantly, managing digital currencies and token with Exodus is a breeze.
Judging by the elevated user-experience, and gorgeous UI, Exodus was coded to make your crypto experience easier and fun. Even the not-so-tech savvy people will find Exodus friendly to use.  The app is coded with all the main features you need for small-to-medium payments.
Customer reputation
Many crypto devotees have praised the Exodus wallet due to its simplistic and user-friendly UI, superior security features, enhanced anonymity, availability of a responsive and friendly customer care, and the fact that it supports a variety of digital assets and tokens. The majority of  those who have used Exodus have given it an excellent rating, above 4.3 stars. At Cryptocompare, about 260 users rated Exodus with a 5.0 stars rating while 96 people gave it 4.0 stars – this is after 427 reviews.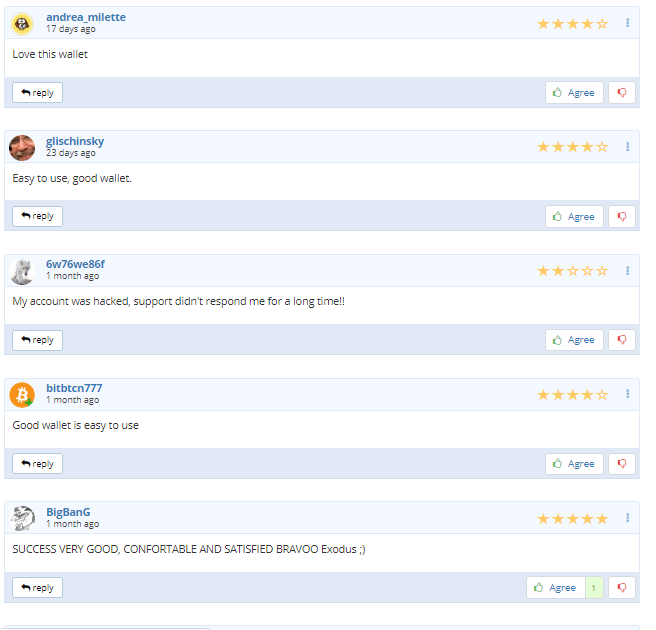 However, there are two or three things that perhaps make users feel dissatisfied with Exodus. The fact that it has no 2-factor authentication, it lacks multi-signature technology, and it is not fully open-source.
User-friendliness of the Interface
One of the things you are bound to love about the Exodus wallet is the sleek and intuitive interface.  The user interface is neat, and even a beginner will have no trouble breezing through the application. It has all the integral features you need to get started with crypto.
This tab has all aspects you need in a wallet: you can monitor your transactions, see your balance, and send/receive coins.  To help you keep organized, you can use an advanced filter to organize transactions according to "received", "Sent" and "Exchanged".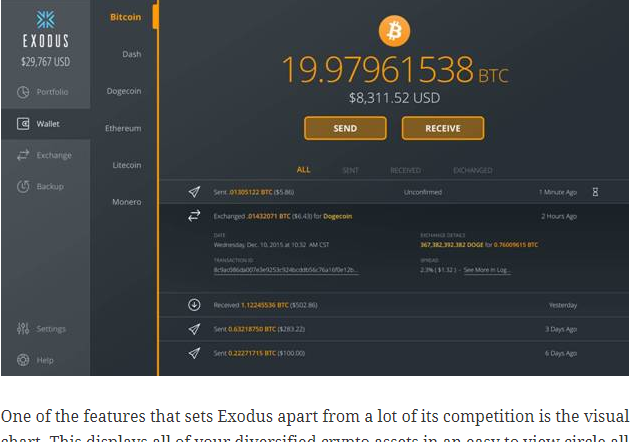 On the portfolio section, you get to track your assets in real-time.  All your assets are displayed in neat, nice-looking pie chart; the chart also shows your available balance.  Furthermore, the Portfolio shows all your coins in percentage format along with the total value in $.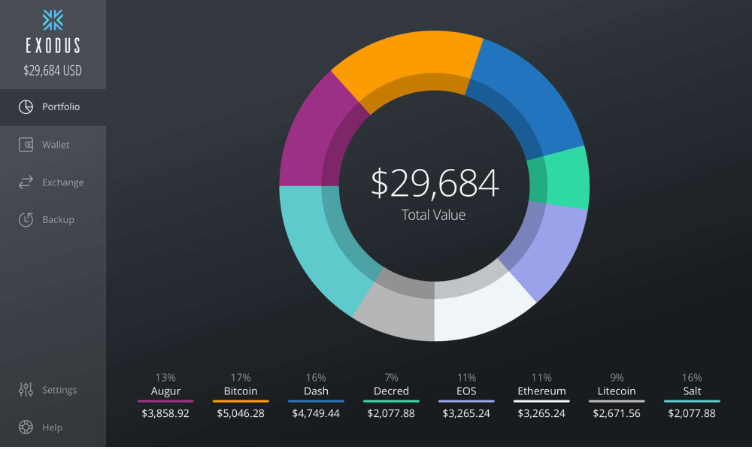 In-built with Shapeshift Exchange
With an in-built Exchange, Exodus makes it easy to swap one digital asset for another. Exodus is integrated with the Shapeshift.io Exchange. This means you use this feature directly without visiting the Shapeshift platform. With this feature, you can swap over 70+ digital currencies – direct swapping.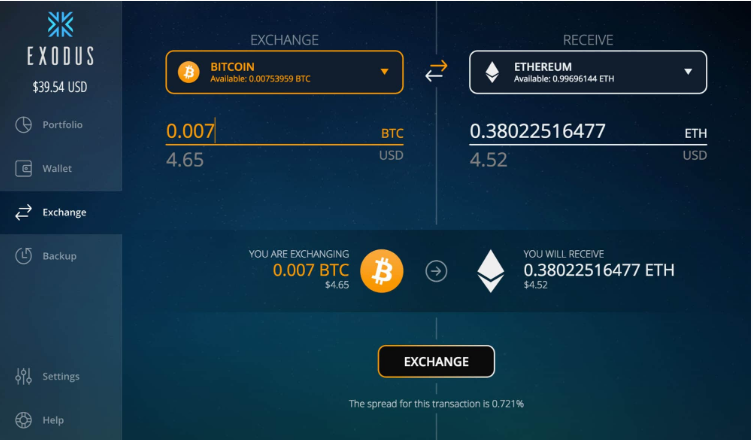 This tab offers options to backup your wallet in case you lose your hard drive or if it becomes corrupted.
Who is most suited to use Exodus wallet?
The exodus wallet is suited for the crypto enthusiast whose interest is to transfer or swap digital assets but in small payments.  If you are a professional trader, you can still use Exodus, but most likely to do small transfers. If you wish to make money trading, you will want to look for advanced applications or sites. It is perfect for small payments.
Compatibility
Exodus is compatible with a variety of Operating Systems, including Linux, Windows, and Mac. Also, there is a mobile version for several iOS devices. At the time of writing this, there is no official mobile wallet for Android devices although the developers are working on releasing one.
Security & Anonymity
Although the wallet is not purely open-source, the top developers of the wallet have a proven track record; they can be trusted based on previous projects they have undertaken.  The founder, JP Richardson, has participated in at least 190 open-source libraries.  
As for the Exodus wallet, it gives you full control of your digital assets. Your seed, private keys, public addresses, and passwords are not stored on a centralized server. Such information is stored on your computer's hard drive, and it is heavily encrypted. The team at Exodus cannot even tell how much balance you have. Nobody can seize or freeze your assets.

The only way you can lose your assets is if you are reckless with your private keys. If anyone has your private key, then they own your assets. To keep your assets safe while using Exodus wallet, practice safe security measures.
Exodus uses a 12-seed passphrase to secure your private keys; a seed phrase also makes it easy to recover your wallet incase you lose your hardware or if it malfunctions. Create a reliable backup for this seed phrase because without it, you can never recover your assets; the seed phrase is unique to every Exodus wallet.
In addition, the Exodus team constantly reviews and updates  the application, checking for bugs and other security vulnerabilities.  
As far as security is concerned, the Exodus development team still has some improvements to do, to enhance security of the wallet. First, the Exodus wallet lacks 2-factor authentication feature. With this security flaw, it means hackers can use malware like keyloggers to obtain your username and password. The other critical security features Exodus lacks is multi-signature (multi-sig) addresses, a technique that enhances security since a user needs more than one key to authorize a transaction.  For this reason, the wallet is yet to be at par with industry players like Trezor and KeepKey.
When it comes to privacy concern, Exodus does provide some level of anonymity. One, you don't have to provide personal details or identification to use the software. Also note that when you manage funds with the software, it does not collect/hold your financial details. However, if you want more anonymity  -- like masking your IP to make your transactions private on the blockchain -- try wallets like Coinomi; Exodus lacks that feature.
How Exodus wallet compares to others
We've talked about how the Exodus wallet kick ass but how does it compare to other wallet like web wallet, paper wallet, and hardware wallet.
Vs. Web wallets
Being a desktop wallet, Exodus is much secure compared to an ordinary web wallet, such as blockchain.com or even the hyped Coinbase wallet. Web wallets are easier to compromise. Apart from losing your critical logins to hackers, centralized servers can get hacked; also the company controlling your private keys could go under. If you are going to use a web wallet, only use it for small amounts.
Vs. paper or hardware wallets
Paper or hardware wallets are the safest wallets to transfer your crypto. That's because they hardly connect to the internet nor reside inside your computer hard drive. Chances of funds being wiped out from cold storage wallet are minimal.  However, it is not uncommon for people to lose funds by being careless with their private keys/seeds.
Exodus wallet fees
You will not pay a dime to use the Exodus wallet; it is free. Also, you don't pay extra fees for incoming and outgoing transactions. However, you are expected to cover the network fees for the digital asset you are moving.  That said, Exodus does make a commission from the ShapeShift Exchange service – they part with 2%-4% of the transaction's spread. Besides that, there are no additional fees.
Coins supported
Being a multi-cryptocurrency wallet, Exodus supports a variety of altcoins; around 100 at the time of writing this.  Here are several of the coins:

Bitcoin.

Dash.

Augur.

Basic Attention Token (BAT).

OmiseGo.

Golem.

Gnosis.

iExec RLC.

Numeraire.

SALT.

Storj.

FunFair.

Firstblood (1

st

)

EOS (EOS).

District (DNT).

Bitcoin Cash.

Matchpool.

iExcel RLC.
To see more assets, check out this page.
Customer support  Review
When it comes to Support, Exodus gets a terrific rating from users.  The customer support has been voted for being friendly, helpful, and responsive – something you don't get with some service providers.  Although there is no phone support, you can submit a support ticket or contact them on their social media platforms (Facebook, Twitter, and Slack channels).  The Slack option offers a live support.

Apart from that, the Exodus platform has tons of educational resources to guide users.  The knowledge base boosts of over 100 articles on topics on different topics: on troubleshooting, basic crypto knowledge, how to secure your wallet, and so on.  On top of that, they have published a detailed FAQ page – so there is wealthy of information to help you out.
Getting started with Exodus Wallet (Depositing coins)
Now, on to the exciting part – getting an Exodus wallet, plus making your first deposit crypto assets.
STEP 1: First, download the multi-cryptocurrency wallet. You can download it from here: https://www.exodus.io/download/. To avoid getting your software from phishing sites, make sure you are surfing on the official website that's secured with an SSL connection.

STEP 2: Install the software on your local hardware drive. You do not have to sign up for anything.Now, to activate Exodus features, you need to send a digital asset to an address generated by the wallet. Click on "wallet" tab, to get started.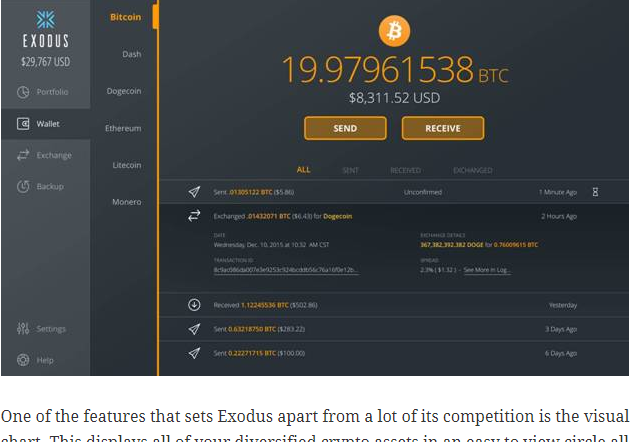 STEP 4: Deposit Coins. Next, pick the asset you want to deposit to Exodus, and then click on "receive" on the left side.  Exodus will display an address and a QR code. You can use this address to receive crypto from another person or send coins from another wallet to Exodus. You can as well scan the QR code with a smart device to capture the receive address.
To send coins, select your prefered coin, and then tap of 'Send' It's that simple.
Note: Unfortunately, if you don't have a portfolio already, you will have to buy your crypto assets from local exchanges in exchange for fiat currencies like CAD, EUR, or the USD.
STEP 5: Setting up a password and wallet backup. After making your deposit, now you wallet is fully activated; Exodus will give you the option to backup your wallet's content. See this article on how to go about it.

NB: Make sure to note down the 12-word seed phrase. The seed is the ultimate key to your wallet; you must safeguard it at all costs.  If another person recovers your Master seed, they can sweep your funds from your wallet. As a caution, never store your seed in the form of a digital copy; always write down the phrase, and store it somewhere safe, offline. Next, after backing up the seed phrase, Exodus will give you an option to choose a unique password.
Exchanging assets
Navigate to the "Exchange" Tab.

Pick the coin you want to exchange from the drop down menu on the left side.

On the right side, select the coins you want to receive after the swap.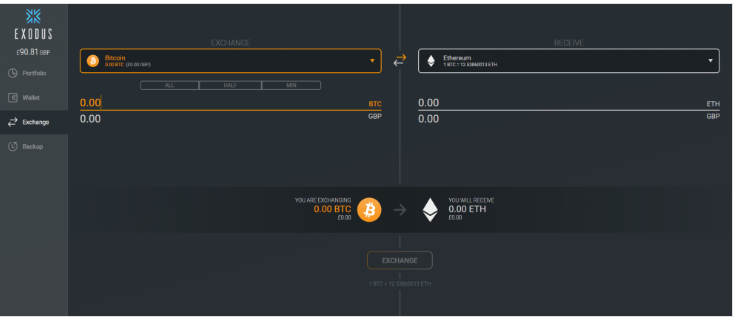 Summary: Pros & Cons

| | |
| --- | --- |
| Pros | Cons |
| Lovely, simple UI. | It is a hot storage (software). |
| Gives you full control of funds. | No option to customize fees. |
| Link hardware wallets like Trezor. | No 2-factor authentication. |
| Excellent customer reputation. | No multi-signature addresses. |
| Friendly and responsive Support. | It is not fully open-source. |
| Swap digital currencies directly. | It is not a HD wallet. |
| It is free to use. | It does not accept fiat money. |
| It supports over 100 coins. | Limited security features. |
Final Thoughts
Indeed, Exodus has a lot to offer -- it is hard to resist it. The gorgeous and simplistic interface, Shapeshift.io integration, and the autonomy to manage your digital assets.
One area I feel Exodus is lagging behind is security. Being a software wallet, they need to consider updating the software security to have features like 2FA, multi-signature addresses, and possibly make it a Hierarchical Deterministic wallet.  The Exodus team is fully aware of this, though -- the best recommendation is to use it for small amount transactions -- an investment you can afford to lose.
Additional resources:
Published: 01/01/2020