The crypto world is ever dynamic -- it is a budding season for new projects in the crypto and blockchain space.  That said, it is not unusual to find yourself gravitating towards technologies bound to transforms our experiences.  The Coinomi wallet is one such project geared towards enhancing your experience in the crypto world.
Looking back, digital wallets have come a long way. You would have to be careful when typing your addresses, and managing private keys was an uphill task. Then there are those software clients that hold your private keys and passcodes (which means your money is theirs). Just so you know: about 25% of bitcoins mined so far have disappeared, mainly due to sending to incorrect addresses or mismanagement of private keys.
Fast forward, with projects like Coinomi in the picture,  the scene has incredibly transformed. In this blog post, I will be giving you a detailed review of the Coinomi wallet.  This Coinomi review breaks down for you all you need to know about the digital wallet. Perhaps, you have spent a lot of time searching for the 'best' crypto wallet for Bitcoin or altcoin, decide for yourself if Coinomi is the one for you.
Table of Contents
Key stats
History Coinomi
Customer reputation
User-interface and design features
Who is best suited to use Coinomi?
Which devices are Compatible with Coinomi?
How does it compare to other wallets?
Coinomi wallet Security and anonymity
Coinomi wallet review: Fees
How to get started with Coinomi wallet
How to receive and send coins to Coinomi
Receiving coins on Coinomi
Sending coins to others
How trading on Coinomi wallet works
Coins supported by Coinomi wallet
Customer Support Review
Summary: The Pros & Cons
Final Thoughts
Key stats
| | |
| --- | --- |
| Customer Reputation | 4.8 stars |
| User-friendliness of the interface | 4.9 stars |
| Security & Anonymity | 4.8 stars |
| Customer Support | 4.8 stars |
| Fees | 4.0 stars |
| Transparency | 4.0 stars |
A short overview of Coinomi
Coinomi is both a mobile and desktop interface that enables you to transact digital currencies with a variety of blockchain networks without surrendering your seed or private keys. Coinomi is not a bank or a website where you can sign up an account – it is simply a crypto interface.
When Coinomi was launched, initially it was an open-source project meant for iOS users. You could review the APK code for malware or security vulnerabilities.  However, with time, a part of their project became closed source.
Crypto followers heard about Coinomi back in June 2014, at the time of its launch. The Coinomi project was developed by a Special Forces veteran and a recognized engineer from the Manchester University – George Kimionis.  Kimionis is also the founder of Cryptean. Coinomi is based in the British Virgin Islands..
Initially, the project was launched for iOS users only but with time, an Android version was released. As it expanded its horizons to include Android users, it also listed more assets.  
Customer reputation
Coinomi has a huge following, and this number keeps rising steadily each day. For the five or so years the wallet has been around, it has garnered a massive following.On CryptoCompare, it has an average rating of 4.9 stars after 129 reviews.
Many fans prefer Coinomi because of several reasons:

It is user-friendly.

It incorporates top level security.

The project has an impressive customer support system.

It provides users with some level of autonomy compared to other wallets out there.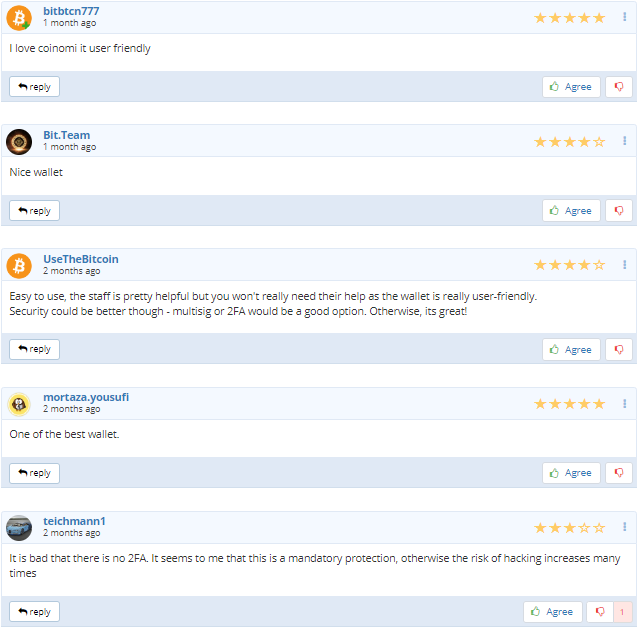 The major concern for most users is lack of 2-factor authentication as an added security layer.  However, I believe with a screen lock PIN, and the fact that private keys are not exposed, you will do just fine.
User-interface and design features
The wallet features a beautiful and an easy-to-operate interface. Even if you are new to the cryptocurrency realm, navigating through the application is straightforward.  Let's mention several of the features coded in the app:
Multi-coin & multi-asset wallet.  

It supports over 500 digital assets. By far, the only wallet to support numerous blockchain assets and tokens. It has 125 blockchain assets and 382 token listed on its interface.  Also, Coinomi supports all kinds of ERC20 token – you can add as many as you wish.

Built in Exchange.

Just like the Exodus wallet, Coinomi has in-built Echanges to simply swapping of digital assets. It is integrated with both ShapeShift and Changelly.

Customize your fees.

Unlike Exodus and other wallet where the fee are dictated by the app developers, with Coinomi, you can customize your transaction fee.

Built-in privacy and anonymity feature.

Transact anonymously on the blockchain -- incredible, huh.

Backup feature.

With this functionality, you can backup your 'seed'/passphrase, a necessarily step to securing your wallet.

Use of SegWit addresses.

Coinomi uses SegWit addresses by default; this ultimately means transactions on the Coinomi wallet are faster and cheaper compared to wallets that lack this feature. ·

        

 
Who is best suited to use Coinomi?  
No doubt, Coinomi rivals most wallets on the market. If you just want a wallet to hold & track your assets in small amounts; send/receive transactions; or swap digital currencies -- Coinomi makes a wonderful partner. Otherwise, if you are a veteran trader who is interested in real time data for analysis or you want hold coins worth thousands or millions of dollars, Coinomi is simply not an option.  In reality, when you use the wallet's in-built exchange, you are using ShapeShift or changelly as the payment gateway – not Coinomi.
Realistically, Coinomi is best suited for the crypto holder who is dealing with small amounts -- whether a veteran or a beginner.  
Which devices are Compatible with Coinomi?
Coinomi has both desktop and mobile versions. For mobile versions, Coinomi is a compatible with both Android and iOS operating systems. In case you opt for the desktop application, there are versions for Windows, macOS, and Linux.
How does it compare to other wallets?
Compared to other hot storages (web, desktop, and mobile), Coinomi is way ahead of the game. Even though it falls short in some areas, it is not a match for many wallets out there. Still, since it is a hot storage (i.e. it connects to the Internet), we cannot dispute that security can be compromised. Even if Coinomi guarantees utmost security, users ,on the other hand,  can be reckless.
Coinomi wallet Security and anonymity
The Coinomi wallet boasts impermeable security features; it is one of the most-secure wallets in the crypto market. Ever since its launch in 2014, the app has not suffered a major security breach except this one time some users reported about a security loophole that fraudsters were exploiting to steal funds.
However, Coinomi came out and boldly diffused these allegations. Furthermore, they affirmed that the Coinomi wallet is one of the safest; the team even went ahead to release a detailed analysis of the Coinomi's APK.
So, how safe is this wallet?
To begin with, Coinomi is a Hierarchical Deterministic (HD) wallet – this means it relies on a master seed or passphrase to derive subsequent addresses, i.e. private/public keys. You just need to have secure backup of this seed phrase instead of doing frequent backups for the different addresses you will generate using your wallet. This is an advanced security measure that minimizes loss of funds, which happens when generating new addresses, restoring a previous wallet, or when moving funds across different types of wallet.
On top of being a HD wallet, Coinomi adds an additional security layer by masking users' IP addresses. This way, users' IP addresses are not shared on the blockchain network during transactions' relying.  Also, Coinomi does not harvest your personal details. If you like some level of anonymity when transacting on the blockchain, then Coinomi is your wallet.  Your spending habits and transactions are free from prying eyes.

Another security measure Coinomi relies on is password protection. If someone with authorized access gets holds of your device, they still cannot spend your coins since exchanges or withdrawals are password protected. This password is only known to you.  Also, it would be futile to hack Coinomi since users' private keys are not stored in its serves. Rather, private keys are encrypted on a user's mobile device.
The team over at Coinomi takes security seriously. That is why they are constantly developing updates and upgrades to ensure the app is secure, and intruders cannot penetrate its security firewall.  
Coinomi wallet review: Fees
Another feature you will like about the Coinomi wallet is having the ability to customize the network transaction fees, something uncommon with other wallets. With some wallets, like Exodus, the developers set the network transaction fees – in some cases, the fees can be unfriendly. Having the freedom to choose low fees or high fees is advantage unlike where the service provider dictates the fees.
besides the network fees for the asset you are transferring; sending or receiving crypto using Coinomi wallet is zero charges. That's a huge plus for the development team; you don't have to worry about high or hidden charges, something synonymous with local exchanges like Coinbase.   However, you get to pay fees for swapping digital currencies, which can significantly high.
Coinomi make their profit from the transaction spread in the Exchange feature; this means a percentage of the fee that charged by ShapeShift or Changelly to swap coins goes to the Coinomi team – however, they do not explicitly state this on their website.
How to get started with Coinomi wallet
To get started with the Coinomi wallet, follow these simple steps:  
Step one 1:Download and install the APK.  Download the APK compatible with your device. Get your APK from this link.  Installing the apk is quite straightforward.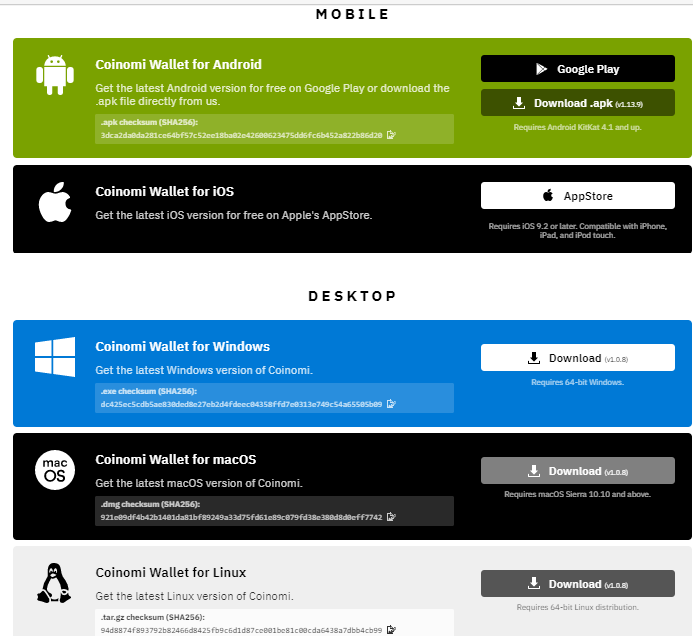 Step 2: Backing up recovery phrase and PIN setup.  Once you install the apk, launch it. You will be presented with two options: "create a new wallet' or 'restore a wallet'. If you have a previous backup, you can recover the coins to Coinomi using option two -- otherwise, choose 'create a new wallet'.  You will get an option to backup your recovery passphrase. As usual, take the necessary precautions when backing up your recovery seed.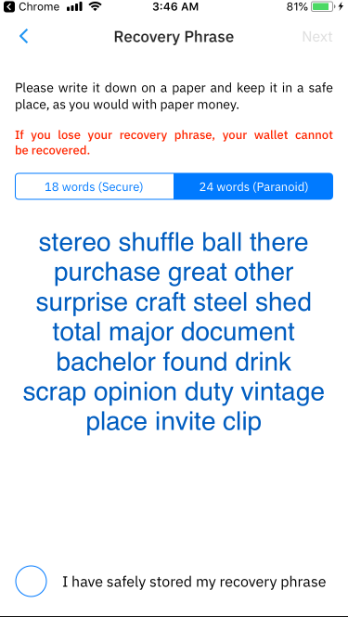 Next, after backing up your master seed, the next step is set up a PIN for your device.  Choose a unique password but one you can remember. You'll need this password to access your wallet.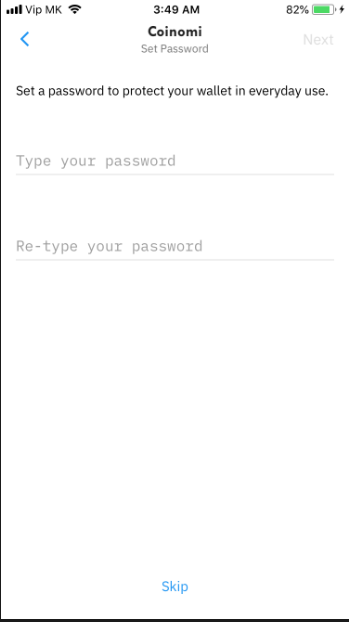 Step 3: Select coins. From there, select which assets you want to see on the portfolio interface.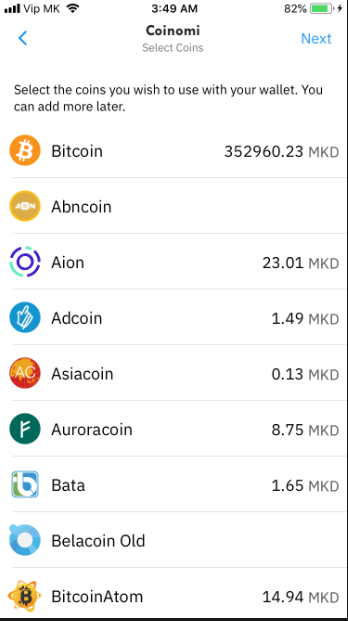 Step 4: Accept TOS: Next,  accept terms of service -- you are ready to go.
How to receive and send coins to Coinomi
Receiving coins on Coinomi
Tap on the menu option, at the top-left corner. You will see an icon with 3 dashes. When you Tap on this icon/menu;

several options will pop up. Navigate to the wallet option; pick the asset you wish to receive on Coinomi from the drop down menu (all coins you previously added will be listed here).
Tap on the digital asset you want to receive, then tap on the 'receive' button to reveal your unique address.Copy this address; you can send coins to this address yourself or share it with friends.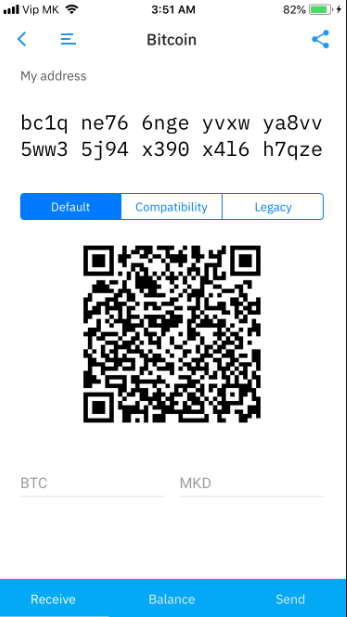 Sending coins to others
Navigate to the wallet section, and select your coin of choice.
Next, tap on the 'Send Button'.  You will get an option to input the recipient's address along with the amount of coins you want to send.

Hit send once you're done.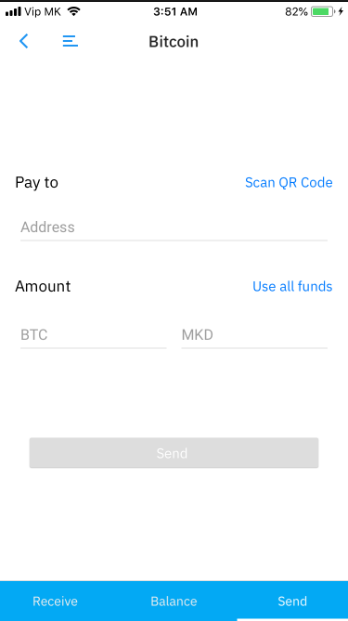 How trading works on Coinomi wallet
Having an inbuilt Exchange gives users the autonomy of swapping cryptocurrencies straight from the wallet's interface without having to login on other platforms.  The Exchange functionality features two in-app trading platforms – ShapeShift and Changelly. These two Exchanges are known to execute trades without long wait times.  

With the ShapeShift option, you can pick between two options: "quick transactions" and "precise transactions".
In quick transaction mode, you enter the amount you wish to exchange; the app will give you an estimate of what to receive depending on the prevailing exchange rate.  Here, you don't specify the amount you wish to receive. Once you pick an asset and state your deposit figures, the in-app Exchange will automatically calculate how much you will receive.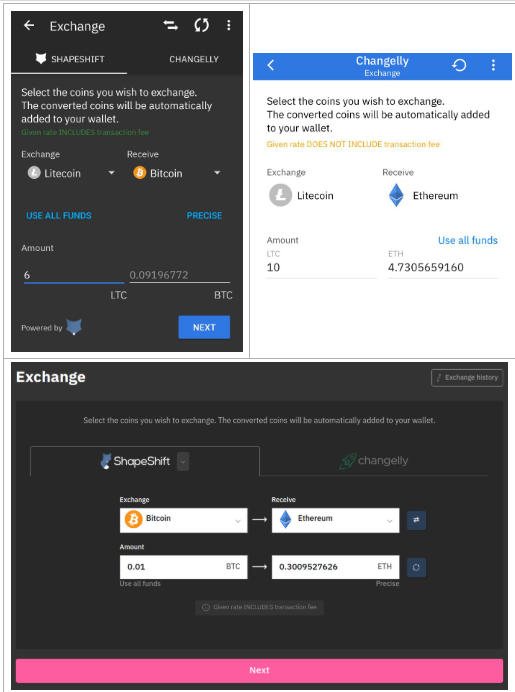 The other option you have is "specific amount orders" or if you like "precise transactions". With this option, you state the amount you wish to receive before initiating the transaction. The in-app feature works just like ShapeShift.io. When you choose 'precise' transactions, you state the amount of coins/tokens you wish to receive; in turn, the app automatically calculates the amount of coins you will deposit to ShapeShift.  If you opt for this strategy, you have 10 minutes to make the deposit; during this period, the Exchange rate will not fluctuate.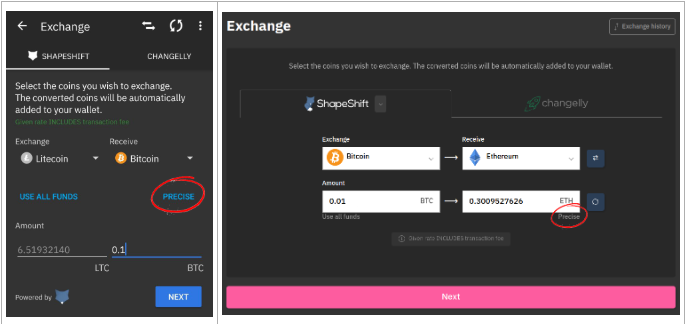 Coins supported by Coinomi wallet
Coinomi supports numerous digital assets, both blockchain and tokens.  In total, it has listed over 500 assets. Check out this page to see all the assets listed. The screenshot below shows several of the digital assets listed on Coinomi.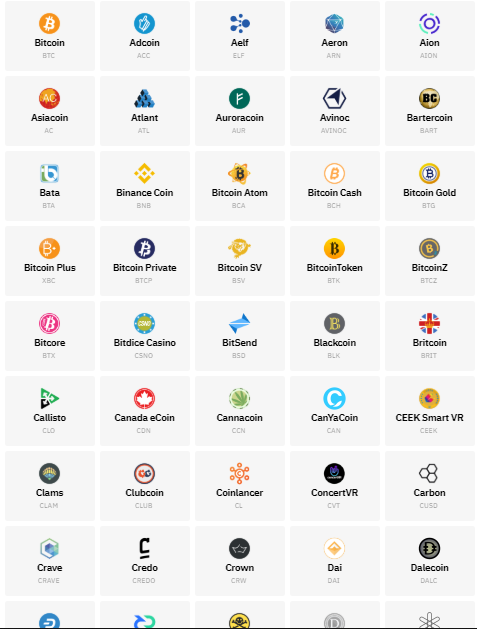 Customer Support Review
Many Coinomi wallet users are happy with the support team.  The team is not only helpful but also they share important updates with the users in a precise and straightforward way.  They share invaluable information, and they are always willing to help solve problems. If you have an issue that needs attention, you can reach out to the Coinomi support team via a support ticket, either using the app or on their official website.  
Summary: The Pros & Cons
| | |
| --- | --- |
| The Pros | The Cons |
| Quickly swap digital currencies. | It is not open-source. |
| In-built privacy and anonymity features. | It does not use 2-factor authentication. |
| Neat and user-friendly interface. | It lacks multi-signature addresses. |
| Supports a variety of languages. |   |
| Friendly and responsive support team. |   |
| SPV client validation. |   |
| Leverages on superior security. |   |
| Supports a variety of coins and tokens. |   |
| Fees customization. |   |
| Elevated user autonomy. |   |
| Buy crypto with credit card. |   |
Final Thoughts
Like many people out there, when you get a dosage of Coinomi, you will most likely fall in love with it: the intuitive design, unrivaled security features, customized fees, friendly and responsive support, and the variety of coins+tokens it supports. In future, Coinomi hopes to include atomic swaps and lighting networks - that will be a game-changer.
Remember: Coinomi is only for small payment or to hold small amount of coins. But if we talking about a high-value investment, better get yourself a hardware wallet like Trezor. It is now going for EUR 69.
Additional resources:
Published: 07/08/2020