There was a time when if you wanted to trade digital currencies, Poloniex was one of the favorite spots to kick it.  Once popular, and with a terrific rating, we cannot say the same about this Exchange. Word out there is that ever since Circle acquired Poloniex in early 2018, (a deal that was worth $400 million), things have never been the same again. Circle buying Poloniex is definitely one of largest crypto deals to happen – despite that, Poloniex reputation has significantly suffered.
This Poloniex review covers everything you need to know about this exchange.
Here is a snippet what the review covers:
A little on Poloniex Exchange
Who should use Poloniex? Beginners or veterans
Poloniex customer reputation
Getting started on Poloniex
Poloniex Verification limits
Poloniex fees
Poloniex app
Security and Privacy
Poloniex available coins
Countries supported
Margin Trading
Poloniex pros
Poloniex cons
Final Thoughts
A little on Poloniex Exchange
Poloniex did not jump into the crypto market yesterday.  The private company,  based in Wilmington, DE, U.S.A, has been in operation since 2014.  Tristan D'Agosta is the founder of Poloniex Inc.
According to Howmuch.net, Poloniex  generates an average of $0.07M per day (figures as of March 2018).  As of 25th December 2018, the company registered a trading volume of $64, 964, 126.  In the last quarter of 2018, Poloniex has seen its website traffic decline, perhaps partly because it was a bear market. On average, it is getting about 6.8 million visitors per day. See screenshot below.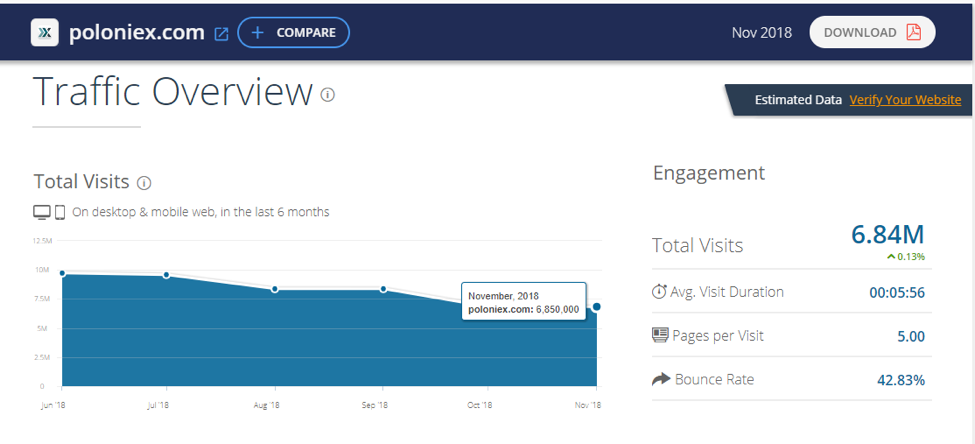 In February 2018, a peer-to-peer payment technology company named Circle bought Poloniex at a price of $400. While the deal was considered as one of the largest in the crypto world, many people say Poloniex is not the same again ever since this acquisition took place. 
Who should use Poloniex? Beginners or veterans
Poloniex is more suitable for the intermediate or advanced user.  That is because it is a trading platform. If you are new to crypto – in particular, you lack trading experience – you may have a heck of a time before you can execute your first trade.  One of the reasons has to do with the fact that Poloniex only accepts exchange of digital assets.  That alone poses some challenge to the first-time user who may not have a digital asset portfolio whatsoever.  Also, the website features and interface are rather developed for the experienced trader.  For the veteran trader, there are various trading tools for you, and you get to analyze price trends in technical, detailed charts.  If you are new to all this; it can be confusing.
Poloniex customer reputation
Although Poloniex security has been compromised back in 2014, where 12.3% of its BTC supply was wiped out by hackers, Poloniex still managed to get themselves a five-star reputation.  Well, Poloniex reputation was intact until it was acquired by Circle.
The major issues are complaints regarding the unresponsive customer support, forcing customers to go through KYC protocol, and freezing of accounts for a certain period.  For instance, This Reddit user says Poloniex has locked his account for no reason; the account has a balance of about $20,000.  Not only has he missed out on a profit during this lock-time, but also Poloniex is yet to get back to him. Some people feel  Poloniex is behaving in the same way MT.Gox did before going under.  Yet another user says he lost 20 BTC on Poloniex Exchange – apparently, their customer service was unhelpful.  Unfortunately, even the veterans do not get any preferential treatment, especially if you start showing signs of disloyalty.   It does not matter how long you have been with them – they will take forever to resolve your issue if at all they get to it. Yet another reddit user says Poloniex stole his money, and that they are ignoring him.  See screenshot below.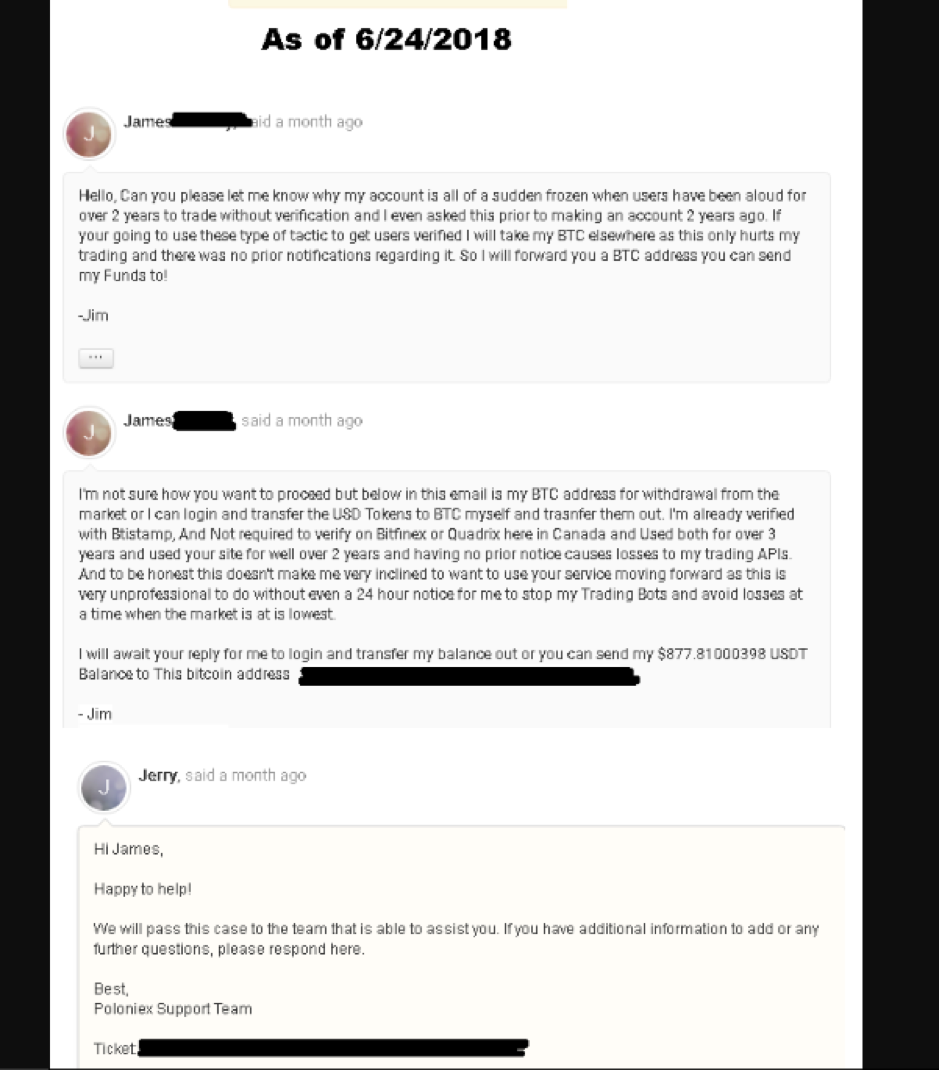 Another issue with Poloniex is that it seems like a hub that nurtures a culture of pump and dump.  Traders end up losing money through artificial price manipulation.
Apart from that, Poloniex is still facing another challenge. Circle, the company that bought Poloniex at $400 million, is backed by Goldman Sachs, an American multinational investment bank International bank.  Okay, let us forget this is a bank meddling with crypto affairs -- Goldman Sachs has been implicated in the infamous 1MDB financial scandal in Malaysia; the bank is being sued for laundering at least $4.2 billion.  This is probably one of the biggest financial crisis to happen this decade since the 2007 financial crisis, another scandal that implicates Goldman Sachs.  Honestly, no one really knows what the future holds for Poloniex, until they clear up some of these issues.
Getting started on Poloniex
Getting started on Poloniex is fairly simple. Head over to https://poloniex.com/ to create your user account.  Click on 'set up trading account'. 
Step 1: This step involves registering with the relevant details: fill in your personal info, verify you are not a robot, and agree to the website's Terms of Use.
Step 2: The next step is to activate your account.  Login into the email you signed up with – then, click on the link sent to you by Poloniex. 
Step 3: Finish setting up your profile.
Step 4: Verify your Identity. You can start trading as soon as your personal identity has been verified.
How to deposit coins and start trading      
Poloniex is crypto-to-crypto Exchange. The platform does not accept fiat money like the USD, the YEN or the EURO.  This means you first have to buy the coins somewhere else, like Coinbase, and then transfer the coins to Poloniex.  Alternatively, you can buy their stablecoin known as USDC,  and then trade the tokens for other digital coins. This is done by converting U.S. dollars into USDC tokens. Poloniex has wallets for all the different coins they have listed.
Let us assume you have gotten your coins from elsewhere, say Coinbase, for example.  To fund your Poloniex account, you need to generate a deposit address, using your Poloniex account.
Go to Balance >> Deposits & Withdrawals.  Next, tap on the deposit tab to see a list of coins offered.  Select your preferred coin, hover to the far right side, and select an action (deposit or withdraw).  In this case, you will click on 'deposit' to see your deposit address.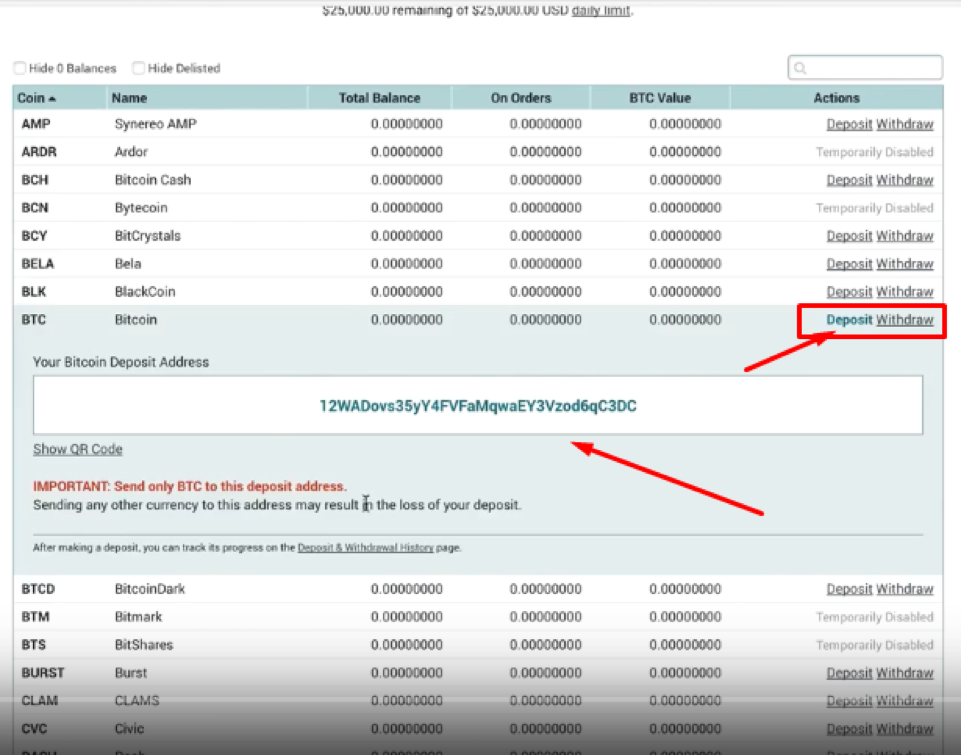 Once you have the deposit address, login into the wallet that has the coins you wish to transfer to Poloniex – it could be a desktop wallet like Electrum or the Trezor hardware wallet, depending on which coin you are holding.  From there,  navigate to the Send/withdraw option, and withdraw the coins to the address you grabbed from Poloniex. Wait for the transaction to confirm, and your coins should be in your Poloniex account ready to trade.
(Do you need a Hardware wallet to manage some of the coins you hold? Get the Trezor hardware wallet at a reduced price of 23%).
Some coins listed at Poloniex have a minimum deposit. This means you cannot start trading until you reach the required balance.  You can make deposits in installments until you reach the required balance. Once the funds reflect in your account, navigate to the "Exchange" page, and hover to the far right side to explore the different markets, trading pairs along with the latest prices.  You should see several tabs with labels for different coins. Click on your tab of preference to see the trading pairs available.
To start trading, simply select a tab of your choice, and then choose your trading pair.  Next, scroll down the Buy or Sell section, and fill in the appropriate details depending on which trade you want.  You can as well look through the Sell or buy order list to explore more options.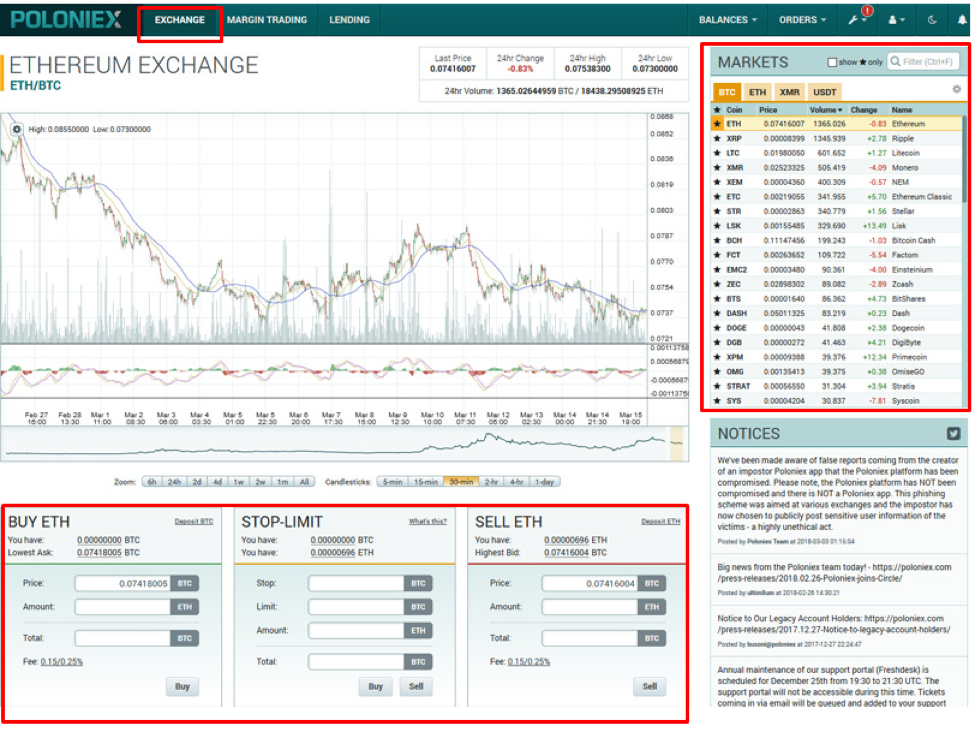 This video explains how to deposit coins into Poloniex, and set up your first trade:
To withdraw your balances, simply navigate to Balance>Deposits and withdraws. Click on Withdraw – you will see an option to insert the address you wish to withdraw to. When you create a Poloniex account, you get three different accounts to hold your funds: there is the Exchange account for ordinary trading, Margin account, and a lending account.  If you want to do margin trading, you will send funds to this account as collateral for securing a loan.  If you want to lend funds to traders, and earn interest, you will move funds to your lending account.
Poloniex Verification limits
At Poloniex, account verification is a must. A while back, Poloniex had different verification levels.  Some users would hold on to what was known as 'Legacy accounts". With a legacy account, you just had to provide basic information; you would get transfer limits of to $2,000 for deposits and withdraws.
Things have changed now as even legacy accounts have to submit full verification details; every new Poloniex user has to verify their account duly before they can start trading. You will be asked to provide details like a verification photo, a government ID, or a Passport. Once verified, you get a limit of up to $25,000 per day.
Poloniex fees
In 2018, Poloniex introduced a maker-taker fee that is based on the volume of dollars you will have traded within 30 days.  Before, their pricing was set based on Bitcoin's price, but the digital currency proved to be so volatile. Now, the fee is calculated based on the average price of the BTC-USD rate, calculated for every 24 hours. 
Also, for every trade executed below $500K, the starting fee looks like this: 
Take fee is set at 0.20%.
Maker fee is set at 0.1%.
The fees considerably reduce if your 30-day trading volume goes above $500K. Here is how the fee schedule looks like at Poloniex: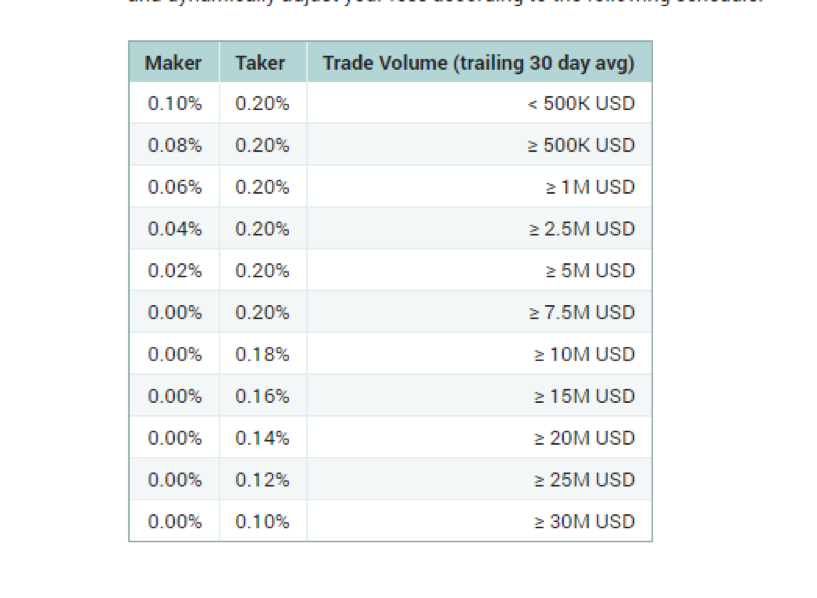 If you trade more than $7.5M, the maker's fee reduces all the way to 0%.  In contrast, the taker's fee reduces to 0.1% for trades above $30M – over a 30-day period.
If you opt for margin trading, there is interest payable to the customer who loans you the money. The interest is payable after the closure of a position.  On top of paying the interest, Poloniex standard trading fees apply.  Also, for every interest earned, a 15% cut goes to Poloniex.
Please note: although Poloniex charges no fees for deposits, you will have to pay a fee for each withdrawal you initiate – however, the fees payable do not go to Poloniex; you will be paying the network fees for the digital asset you will be withdrawing.  Thus, fees vary depending on the network.
Poloniex app
Poloniex has a mobile app for both Android and Apple users.  The app was launched mid-year 2018 in July.  It is a neat app with a useful interface. It comes with all the trading features offered on the desktop website. You get features like detailed charts, the ability to manage different coins, you get real-time updates for all markets, and you can set alerts for price movements.  However, you cannot create stop limits using the app; you can only do so on the website.  Some people feel the app could use more improvements: include a lending feature, make it more responsive, and maybe add a sorting feature.
Security and Privacy
Poloniex does not only monitor your account, but also it tracks both personal and anonymous data of their customers.  This means that: on top of Poloniex having your personal data like names, contact info, and address; they get to collect info like IP address, your ISP info, your location, your browsing habits, and even view all blockchain analytics associated with your address/identifier.
If a legal entity or a regulator body approached Poloniex, and asked for specific information, Poloniex would have no alternative but to comply.  However, they will ask for your consent in cases where a third-party wants access to your info.  In situations where they do give third parties access to your data, it is purposefully to facilitate their services. To enhance security, Poloniex takes the following steps:
A huge chunk of customers' deposits is stored in what Poloniex calls 'Air-gapped' cold storages. Only a small percentage is left in online storages to facilitate trading.
They strictly monitor all accounts so as to safeguard users' digital assets.
They enforce two-factor authentication for all user accounts.
They encrypt website sensitive information.
Poloniex available coins
At the moment, Poloniex offers 80 coins and 133 trading pairs. Some coins previously listed have been delisted.  Some of the coins with a higher trading volume listed include:
Bitcoin
Factom
Bitcoin Cash
Bitcoin SV
Ethereum
Monero
Dash
Stratis
Zcash
Stellar
EOS
NEM
Livepeer (LPT)
Numerai (NMR)
Polymath (POLY)
Countries supported
Before, Poloniex was open to all. However, the company recently updated its terms, where it restricted some countries from using its services. Restrictions are imposed on some states in the U.S. like New York, Washington, and New Hampshire. Other countries include Vietnam, Pakistan, Germany, and China.
Poloniex customer Support
Truly, Poloniex support system needs serious attention.  The support is terribly slow. It takes forever before they can reply to your support ticket, possibly because of the overwhelming number of complaints lodged.
It can take up to a month before the respond to your query; sometimes they can ignore your ticket.   Up to now, some users claim Poloniex has not responded to their support ticket while others claim it took Poloniex months to get back to them. Hopefully, that will change in the coming days.
Margin Trading
Poloniex offers traders with an option of margin trading.  In margin trading, you borrow funds for trading from other peers.  Before you can start margin trading, you will have to transfer funds to your margin account – these funds cover for collateral or debt settlements. However, Poloniex recently disabled the options of margin trading and lending for U.S. customers.
Poloniex pros
It offers margin trading for non-U.S. customers.
It offers a variety of altcoins.
It has an option for loaning money to traders.
Traders are able to create stop limits.
It has a mobile-friendly website.
The experienced trader will love its interface and trading features.
They offer a trading API tool.
Poloniex trading interface code is open-source.
Poloniex cons
Only cryptocurrency deposits are accepted. No bank or credit cards are accepted.
Full verification is a must.
Many complaints regarding account freezing, and disabling of withdraws.
Their customer care is unresponsive.
It is a hub spot for 'pump and dump' tactics.
It has a negative history of a security breach.
Final Thoughts
I bet now that you have read our Poloniex review, you will be in a position to make an informed decision -- whether to trust your money with Poloniex, or to go with another alternative, such Gemini, Bittrex, or Kraken.  I would like to stress this one thing: don't leave a huge chunk of your investment on a centralized Exchange. After all, the Exchange controls the private keys that unlock the wallets holding your digital assets.
For now, read our article on Gemini VS. Coinbase review to see how the two Exchanges compare.
Published: 01/03/2020