So, you want to dive into it but you are having a hard time trying to figure out whether to go with Gemini or Coinbase. Gemini and Coinbase are household names, at this point. Millions of followers rely on either of these two platforms to buy or sell digital currencies like Bitcoin, Ethereum, and Litecoin.
Crypto Exchanges running this show are countless. Gemini and Coinbase have made to stand out from the crowd. However, deciding between the two exchanges can be a tricky choice. This Gemini Vs. Coinbase review will simplify things for you so do not have to sit on the fence, unable to decide which one to. It discusses how the two Exchanges compare.
Here is a snippet of what the article covers:
An overview of Gemini VS.Coinbase: Key highlights

A short history of Coinbase
A short history of Gemini
User-friendliness
Funds and information security
Privacy

Deposit method used
Fees payable

Coinbase fees
Gemini fees

Customer support
Coins listed
Purchasing limit
Trading volume
Pros and Cons for each Exchange

Coinbase Pros
Coinbase Cons
Gemini pros
Gemini cons

Final thoughts
To explore more options, check out this comprehensive list that compares almost every crypto exchange out there.
An overview of Gemini VS.Coinbase: Key highlights
| | | |
| --- | --- | --- |
| | Gemini | Coinbase |
| Site Type | Cryptocurrency Exchange | Retail outlet for digital currencies |
| Reputation rating | Excellent | Excellent |
| User-friendliness of the site | Beginner friendly | Intermidiatery |
| Security of funds & data | Excellent | Excellent |
| Start-up year | 2015 | 2012 |
| Location based | New York, U.S.A | California, U.S.A |
| Buying methods | Bank Transfer, debit cards, wire transfer, and cryptocurrencies. | Bank, Wire transfer, and cryptocurrencies |
| Selling methods | Bank transfer | Bank transfer |
| Fees | Medium | low |
| Main cryptocurrencies listed | Bitcoin, Ethereum, and Litecoin | Bitcoin, Ethereum, and Litecoin |
| Verification required | Yes | Yes |
| Customer support rating | Good | Good |
| Purchase limit | Daily limit of $500 (individual a/cs and $10,000 (institutional accounts) | Daily limit of up to $25,000 (verified accounts) |
| Trading volume in BTC (in six months) | 543K | 1.86M |
| Review guide | | |
| Visit site | | |
A short history of Coinbase
Coinbase is among the leading crypto Exchanges on the market. It has an impeccable reputation, no wonder many beginners find themselves there. The platform is more of a retail store for digital currencies as it operates differently from other platforms that follow a forex or stock Exchange model. In short, you buy cryptocurrencies listed directly from the platform whereas in cases like for Gemini, you trade the digital currencies with other peers.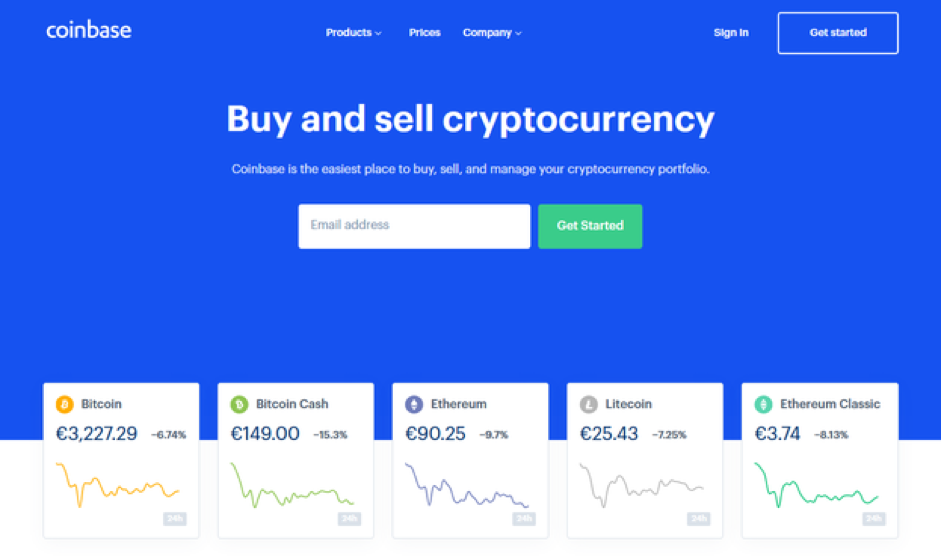 Coinbase was founded by Brian Armstrong and Fred Ehrsam, back in 2011; the cryptocurrency Exchange is based in San Francisco, California.
Just to see where Coinbase is at recently, the Exchange is valued at 8 billion (as of this writing); In contrast, Brian Armstrong, Coinbase founder, is now a billionaire – with a current net worth being 1.3 billion, a notch higher from $900M earlier this year. Although it lacks advanced features that you would find in Exchanges like Coinbase Pro, a sister website to Coinbase, many people love it because they find it beginner-friendly.
A short history of Gemini
When most people hear Gemini, probably what comes to mind is the Zodiac sign that shows a pair of twins, Castor and Pollux. In the crypto world, Gemini is a "retail outlet" for digital coins, a famed platform for trading digital currencies. Trades on Gemini submit orders for digital assets they wish to own.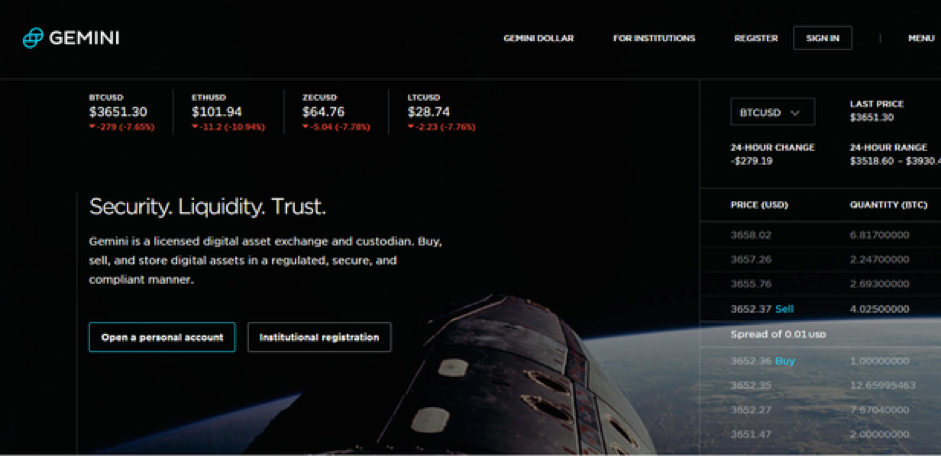 The Co-creators of Facebook – Tyler and Cameron Winklevoss – were behind the Gemini's innovation back in 2015. Although Gemini entered the game later than Coinbase, it has overshadowed many industry players and made a name for itself. Those who love to trade on Gemini like it because of the friendly fees, top-ranking security, and the unrivaled competition.
Now let's discuss how the two platforms match up, head to head.
User-friendliness
Both Gemini and Coinbase are user-friendly. However, as a first time user', you may find it easier to navigate and transact on Coinbase compared to Gemini.
Funds and information security
Both Coinbase and Gemini are safe to buy and sell cryptocurrencies. To protect your funds and digital currencies, both platforms have enforced various security measures.
Coinbase has put in place strict measures to ensure maximum security of funds. To begin with, a huge reserve of funds deposited is stored offline; Coinbase has set up vaults and safety deposit boxes in different locations globally, a security measure that minimizes funds theft.
Also, they protect your personal information at all costs: sensitive data is not stored on servers connected to the Internet. Furthermore, all data is copied on paper backups and USB drives (FIPS-140) after it is encrypted with the AES-256 algorithm, the same algorithm that is used to encrypt wallet, private keys, and all its website information.
Just like the funds, data packed in USB drives and paper backups are stored in geographically distributed locations, worldwide. Additional security measures include two-factor Authentication, strong-password combination, bounty offers for developers who might detect bugs in their software, and an insurance cover for certain type of security breaches.
Also, the fact the Coinbase is regulated as a money transmitter in the U.S. should give you peace of mind.
As for Gemini, the Security measures set are extreme, just like Coinbase, Gemini is also fully regulated; it complies with the regulations set forth by the New York State Department of Financial Services (NYSDFS). To secure your funds, Gemini has established diverse security measures. Gemini uses offline cold storages to store cryptocurrency funds – only a percentage of digital wallets are stored on their online wallets.
Additional security measures at Gemini include:
Using multi-signature to secure transactions.
Funds are FDIC insured up to $250,000.
use of two-factor authentication.
Encrypting sensitive information, including all website data.
Segregating customers' funds from Gemini's business operations.
Cryptographic hashing of passwords.
Giving access control to specific sections of the website.
Vetting of all employees.
Employees have to use public-key authentication for all remote access services.
Privacy
Gone are the days when you could provide only a username and a password to sign up at Coinbase. Now, when you sign up at Coinbase, you have to provide personal information like the last four digits of your SSN (for U.S. consumers), your passport, driver license, and even a selfie. As if that's not enough, Coinbase monitors accounts; you get no anonymity whatsoever. If you go against their terms, they can terminate your account.
With Gemini, they collect personal details in the same way Coinbase does – everyone who opens an account at Gemini has to verify their Identity by submitting relevant personal information. On top of collecting personal info, they also keep track of the device you are using, your location, log information, as well as your account activity.
Deposit method used
Coinbase:
The payment methods accepted at Coinbase differ with your place of residence. They accept three main methods:
Deposit via bank account. This is good for both small and large amounts; the transaction takes 3-5 business days. If you are in the U.K. or Europe, you have the SEPA transfer option while those in the U.S can use ACH?
Debit. This approach is instant as long as you have verified your Coinbase account. It is recommended for small investments.
Via wire transfer. This method can only be used to deposit and withdrawal money to your Coinbase account; not to buy crypto.
Gemini: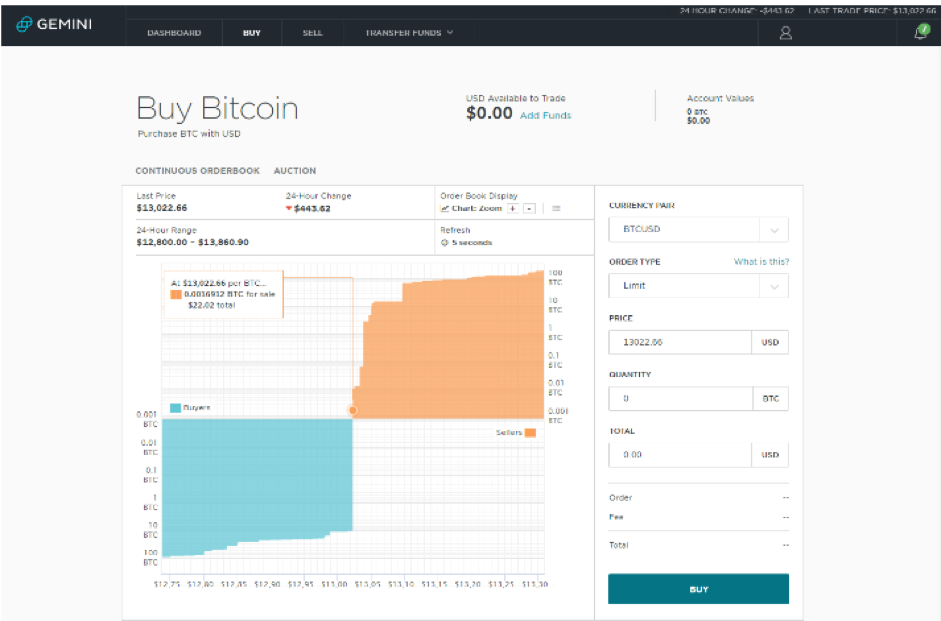 At Gemini, they accept three deposit methods:
bank transfers (ACH),
wire transfers
Cryptocurrencies deposit.
Unlike Coinbase, debit cards are not an option. Also, wire transfers can only be done in USD. On the bright side, you get to link multiple bank accounts, and both BTC and USD deposits are instant – you can begin to transact immediately after depositing funds.
Fees payable
Coinbase fees:
As for Coinbase, the fees payable depend on where you are located, and the payment method you have chosen to use. For every transaction you will you initiate at Coinbase, you will pay a fee; this fee will depend on how much you are transacting.
Here is how the fees are structured at Coinbase:
$0.99 for transactions adding up to $10.99, and below.
$1.49 for transactions between $11.00 and $26.49.
$1.99 for transactions between $26.59 and $51.99.
$2.99 for transactions between $52.00 and $78.05.
A flat fee of $2.99 for transaction ranging between $78.05 and $200.
For purchases above the $200 limit, a variable fee of 1.49% kicks in for standard purchase (for bank account or USD wallet). Credit card and debit card purchases will attract a rate of 3.99%. As if that is not enough, Coinbase slaps U.S. consumers with a fee of 4% for every transaction.
Even so, for American Citizens, ACH transfers are free when depositing funds while bank transfers are $10. However, if you withdrawal to the bank, the charges are $25. If you are in Europe, there are zero charges when depositing funds.
Gemini fees:
At Gemini, the fees charged are straightforward – that means there are no hidden fees, and the applicable fees are explicitly explained. Deposits are free at Gemini. If your trading volume falls below 5K for BTC and 100K for ether, you pay 0.25% fee – this is applicable during the trial period, which is 30 days. As you increase your trading volume, the fees considerably reduce. The fees can reduce to as low as 0.1% if you exceed the 5K trading volume limit on your trial period. Gemini has friendly fees, and it is best suitable for the trader who deals with a huge volume. If you are transacting more on Coinbase, in contrast, you would pay more in fees.
Customer support
As long as you have opted to buy or sell cryptocurrencies through Exchanges like Coinbase and Gemini, you have to think about Customer support. Because, if you get stuck – perhaps you're unable to login to your account or you need to raise a dispute – you may need an arbitrator or someone with admin rights to come to your rescue. Both Gemini and Coinbase have a customer support base.
Coinbase support page links users with tons of useful info about account management, buy and sell orders, payment methods, and wallet services. If articles posted do not answer your question, you can always reach them via email by submitting a support ticket – the response time can take between 48-72 hours.
Also, you can reach the customer service team using their phone support line. However, do not expect a candid solution to your problem. Many Coinbase users complain that a lot of the time, the response team provides answers that do not specifically address the issue raised.
As for Gemini, the customer support system deserves a standing ovation. They are few complains if any. You can get assistance through email or phone, and the response communicated is fast (you can get a response within a few hours), and it is not an automated response. Apart from that, Gemini has published a detailed FAQ.
Coins listed
Already, Coinbase offers several digital coins. Coinbase offers various digital coins, including:
Bitcoin.
bitcoin cash (paused for now)
Ethereum, Ether, and Ethereum Classic
Litecoin.
Basic Attention Token,
USDC Stable coin
ZRX.
After investing in an extra $300 million, Coinbase may list more cryptocurrencies in the future, probably hundreds.
In contrast, Gemini has listed the following coins:
Bitcoin (BTC).
Ethereum (ETH).
BCH
Litecoin (LTC).
ZEC.
Purchasing limit
Coinbase has not set a specific purchasing limit. Rather, purchasing limit will depend on your account level – which, in turn, is affected by factors like: account verification, buying history and the account age. Thus, your personal limits will depend on these factors. For users who have fully verified their account, they are eligible for a daily purchase of up to $25,000.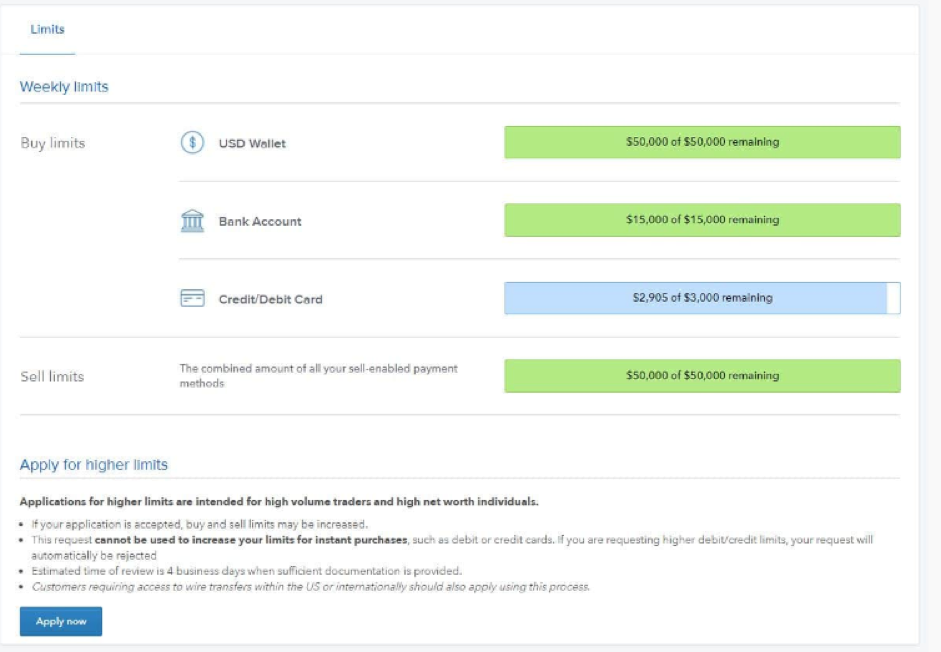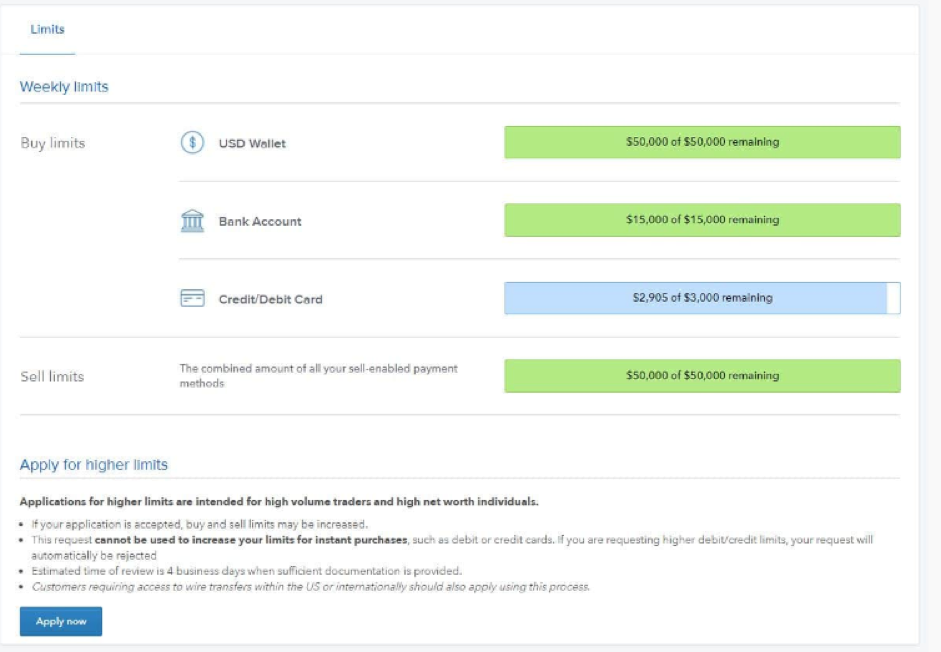 On Gemini, your purchase limit will depend on how much your account can hold at any given time - essentially, the deposit method you choose will determine how much your trading limit.
The deposit limit for Bank transfers looks like this, and it will depend on the account type:
Individual accounts have a daily deposit limit of $500, and a monthly deposit limit of $15,000.
Institutional accounts have a daily limit of $10,000; $300,000 for monthly deposits.
Wire transfers have no limits for deposits but the minimum you can withdraw is $100. Digital assets also do not have limits.
Trading volume
When it comes to trading volume, Coinbase has an edge over Gemini. According to this site that tracks relevant crypto data, Coinbase has traded a volume of 1.86M in BTC over a period of six months (as of 25th November, 2018) while Gemini's trading volume over the same period is only 543K – Here, Coinbase takes the spot. On the long list of Exchanges, Coinbase is number two on the list after Bitfinex with a trading volume of 4.27M.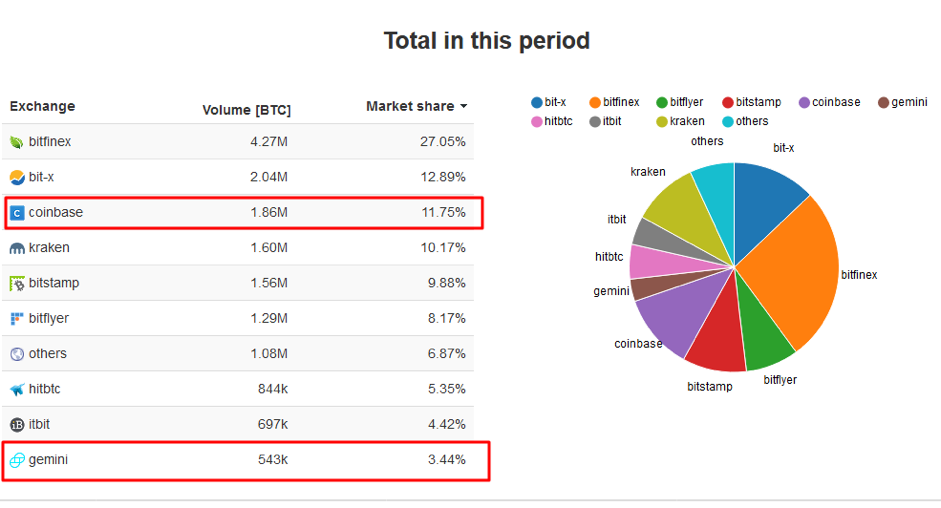 Image source: https://data.bitcoinity.org/markets/volume/
Pros and Cons for each Exchange
Coinbase Pros
Great reputation in the industry.
Tight security measures for funds and user info.
Various digital coins listed.
It is beginner friendly.
Offers wide deposit methods.
High trading volume.
Gemini has a higher purchase limit compared to Gemini.
Insurance of digital coins deposited.
Coinbase Cons
You have to verify your account.
Coinbase collects user's info while monitoring their accounts.
There are complaints regarding their customer support reliability and slowness.
Delay of funds at times.
Gemini pros
It is a superb reputation in the industry.
It uses advanced security measures to safeguard funds and user info.
The fees are user-friendly compared to Coinbase.
Zero charges for both deposit and withdraws.
Various digital coins and tokens are listed.
Various deposits methods are offered.
Gemini segrates users' funds from business finances.
Insurance of funds (up to $250,000) by FDIC
Gemini cons
Debits cards are not accepted.
Wire transfers can only be done in USD.
It has a low trading volume.
Account verification is a must.
Gemini monitors accounts just like Coinbase.
Final thoughts
Coinbase and Gemini are acceptable Exchanges to buy or sell digital currencies with fiat money. The companies a solid reputation, tight security measures, and they have been around for several years.
Bee keen, though: never store a large sum of your money on online wallets. The moment you complete your trading business, move your funds to a cold storage. Get the Trezor hardware wallet -- you will have peace of mind as you will be in control of the private key. Trezor recently announced a new price for one of their oldest gadgets on the market, Trezor one.
On this page, you can compare different wallets (more than 200), to see the ones that suit you best.
Published: 11/28/2018